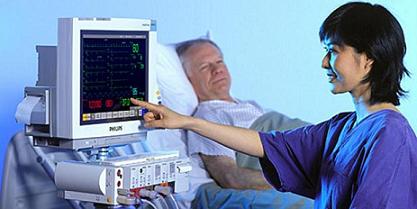 The MIMIC II (Multiparameter Intelligent Monitoring in Intensive Care) Databases contain physiologic signals and vital signs time series captured from patient monitors, and comprehensive clinical data obtained from hospital medical information systems, for tens of thousands of Intensive Care Unit (ICU) patients*. Data were collected between 2001 and 2008 from a variety of ICUs (medical, surgical, coronary care, and neonatal) in a single tertiary teaching hospital. The MIMIC II Clinical Database contains clinical data from bedside workstations as well as hospital archives. The MIMIC II Waveform Database includes records of continuous high-resolution physiologic waveforms and minute-by-minute numeric time series (trends) of physiologic measurements. Many, but not all, of the Waveform Database records are matched to corresponding Clinical Database records (for more information, see Record Matching). The databases are thoroughly de-identified (all PHI has been removed and all dates have been changed).
Both databases are distributed freely via PhysioNet. There are no restrictions on access to the MIMIC II Waveform Database. Access to the MIMIC II Clinical Database is available to qualified researchers who obtain human subjects training and sign a simple data use agreement (see Getting Access).
Resources
Introductory Material

Exploring the MIMIC II Waveform Database (unrestricted access, no registration or login required)

Exploring the MIMIC II Clinical Database (restricted access, registration and login required)

MIMIC II Clinical Database Subset (unrestricted access, no login or registration required)

Further Reading
*The MIMIC II Databases are the products of an ongoing NIH-sponsored Bioengineering Research Partnership (NIBIB BRP R01EB001659), that combines the resources of an interdisciplinary team from academia (MIT), industry (Philips Healthcare), and clinical medicine (Beth Israel Deaconess Medical Center) to develop and evaluate advanced ICU patient monitoring and decision support systems.
Group Discussion Forum