PhysioNet the research resource for complex physiologic signals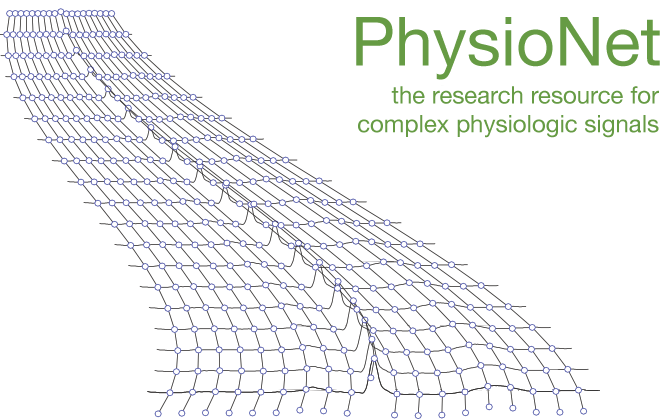 PhysioNet offers free web access to large collections of recorded physiologic signals (PhysioBank) and related open-source software (PhysioToolkit).
PhysioNetWorks workspaces are available to members of the PhysioNet community for works in progress that will be made publicly available in PhysioBank and PhysioToolkit when complete.
Use the PhysioNet button (top left) or start from the site map to explore this web site, or use the Search tool (top right) to locate pages of interest. The answers to many common questions are in the FAQ.
Top Links
PhysioBank - Data

PhysioToolkit - Software

PhysioNetWorks - Workspaces

Help and Guides

Online Data Viewers
Recent News

New Database Added: NIFEADB
19 February 2019 12:00:00 AM EST
The Non-Invasive Fetal ECG Arrhythmia Database (NIFEA DB) provides a series of fetal arrhythmias recordings (n=12) and a number of control normal rhythm recordings (n=14) performed using the non-invasive fetal electrocardiography (NI-FECG) technique.
PhysioNet/CinC Challenge 2019
8 February 2019 12:00:00 AM EST
The PhysioNet/Computing in Cardiology Challenge 2019 has now begun! This year's topic is prediction of sepsis from clinical data. We are delighted to announce that this year's Challenge is being sponsored by the Gordon and Betty Moore Foundation, Google and Mathworks.
New Software and Tutorial: Generalized Multiscale Entropy (GMSE)
2 February 2019 12:00:00 AM EST
GMSE is a new computational tool for quantifying the volatility of time series. This work extends the multiscale entropy (MSE) algorithm currently available on PhysioNet. The GMSE method was first described in Costa M., Goldberger A.L. Generalized Multiscale Entropy Analysis: Application to Quantifying the Complex Volatility of Human Heartbeat Time Series. Entropy 2015;17:1197-1203.
New Database Added: MIMIC-CXR
22 January 2019 12:00:00 AM EST
MIMIC-CXR is a large, publicly-available database comprising of de-identified chest radiographs. The dataset contains 371,920 chest x-rays associated with 227,943 imaging studies. This database is described in Johnson AEW, Pollard TJ, Berkowitz S, Greenbaum NR, Lungren MP, Deng C-Y, Mark RG, Horng S. MIMIC-CXR: A large publicly available database of labeled chest radiographs. arXiv (2019).
New Database Added: EEGMAT
17 December 2018 12:00:00 AM EST
The database contains EEG recordings of subjects before and during the performance of mental arithmetic tasks.
[ more ]