When referencing this material, please cite:
MG Terzano, L Parrino, A Sherieri, R Chervin, S Chokroverty, C Guilleminault, M Hirshkowitz, M Mahowald, H Moldofsky, A Rosa, R Thomas, A Walters.
Atlas, rules, and recording techniques for the scoring of cyclic alternating pattern (CAP) in human sleep
.
Sleep Med
2001 Nov; 2(6):537-553.
Please also include the standard citation for PhysioNet:
Goldberger AL, Amaral LAN, Glass L, Hausdorff JM, Ivanov PCh, Mark RG, Mietus JE, Moody GB, Peng C-K, Stanley HE. PhysioBank, PhysioToolkit, and PhysioNet: Components of a New Research Resource for Complex Physiologic Signals.
Circulation
101
(23):e215-e220 [Circulation Electronic Pages;
http://circ.ahajournals.org/cgi/content/full/101/23/e215
]; 2000 (June 13).
The Cyclic Alternating Pattern (CAP) of EEG activity during sleep
The Cyclic Alternating Pattern (CAP) is a periodic EEG activity occurring during NREM sleep. It is characterized by cyclic sequences of cerebral activation (phase A) followed by periods of deactivation (phase B) which separate two successive phase A periods with an interval <1 min. A phase A period and the following phase B period define a CAP cycle, and at least two CAP cycles are required to form a CAP sequence.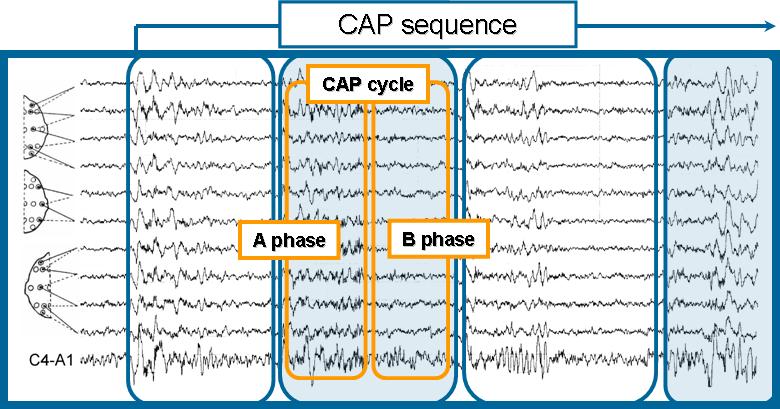 An example of cyclic alternating pattern (CAP) in sleep stage 2. A CAP cycle is defined as a phase A period followed by a phase B period lasting a minute or less. Two or more adjacent CAP cycles define a CAP sequence.
Phase A periods are subdivided into three subtypes:
Subtype A1: synchronized events with low impact on autonomic and somatomotor activities;
Subtype A2: mixed synchronized–desynchronized EEG events with an intermediate influence on the autonomic and somatomotor activities; and
Subtype A3: predominantly desynchronized EEG events with heavy effects on the autonomic and somatomotor activities.
A detailed description and definition of CAP is reported in [1]. For a complete review of the history and significance of CAP, see [2].
Despite being a physiological phenomenon, CAP is also a marker of sleep instability and can be correlated with several sleep-related pathologies. In fact, on one hand CAP can reflect a reaction of the sleeping brain to any endogenous or exogenous disturbance; on the other hand, the A phase of CAP has been interpreted as a kind of gate through which pathological events more easily occur [3]. Increased amounts of CAP are often observed in sleep-disordered breathing (SDB), as well as in insomnia [4], sleep movement disorders (periodic leg movements, or PLM [5], restless leg syndrome (RLS) [6], parasomnias like REM behavior disorder (RBD), and epileptic diseases such as nocturnal frontal lobe epilepsy (NFLE) [7]. Pathological amounts of CAP can also be found in hypersomnias of central origin such as narcolepsy [8].
The ratio between NREM CAP sleep and total NREM sleep (CAP-rate), and the different distributions of CAP A phases with respect to sleep stages can be measured in sleep centers to characterize such pathologies. These indexes can be valuable as measures of sleep quality, but the time needed to determine them has been an obstacle to their adoption in routine clinical practice, since visual scoring of CAP phases A for an entire night of sleep recording requires expertise and lengthy, attentive analysis. The development of software capable of increasingly accurate and efficient automated analysis of CAP is beginning to result in wider clinical use of CAP indexes for diagnosis of sleep pathologies and assessment of the efficacy of therapeutic interventions.
The CAP Sleep Database
The CAP Sleep Database is a collection of 108 polysomnographic recordings registered at the Sleep Disorders Center of the Ospedale Maggiore of Parma, Italy. The waveforms (contained in the .edf files of the database) include at least 3 EEG channels (F3 or F4, C3 or C4 and O1 or O2, referred to A1 or A2), EOG (2 channels), EMG of the submentalis muscle, bilateral anterior tibial EMG, respiration signals (airflow, abdominal and thoracic effort and SaO2) and EKG. Additional traces include EEG bipolar traces, according to the 10-20 international system (Fp1-F3, F3-C3, C3-P3, P3-O1 and/or Fp2-F4, F4-C4, C4-P4, P4-O2).
The 16 healthy subjects included in the study did not present any neurological disorders and were free of drugs affecting the central nervous system. The 92 pathological recordings include 40 recordings of patients diagnosed with NFLE, 22 affected by RBD, 10 with PLM, 9 insomniac, 5 narcoleptic, 4 affected by SDB and 2 by bruxism. The age and gender of the subjects are reported in a spreadsheet (gender-age.xlsx).
The recordings are named according to the subjects' pathology:
| | |
| --- | --- |
| n1-n16 | No pathology (controls) |
| brux1-brux2 | Bruxism |
| ins1-ins9 | Insomnia |
| narco1-narco5 | Narcolepsy |
| nfle1-nfle40 | Nocturnal frontal lobe epilepsy |
| plm1-plm10 | Periodic leg movements |
| rbd1-rbd22 | REM behavior disorder |
| sdb1-sdb4 | Sleep-disordered breathing |
Annotations
Expert neurologists trained at the Sleep Center provided the scoring of the sleep macrostructure, according to the Rechtschaffen & Kales rules [9], while the CAP was detected in agreement with Terzano's reference atlas of rules [10]. All the signals were visualized and the scorings were performed using REMlogic™ software (Embla).
The scores for each recording are provided as .txt files in REMlogic report format, and also as .st files in PhysioBank-compatible format. The .txt score files have the following fields:
Sleep stage (W=wake, S1-S4=sleep stages, R=REM, MT=body movements)
Body position (Left, Right, Prone, or Supine; not recorded in some subjects)
Time of day [hh:mm:ss]
Event (either a sleep stage (SLEEP-S0..S4, REM, MT), or a phase A of CAP)
Duration (in seconds)
Location (the signal(s) in which the event can be observed)
A Matlab script is provided for reading the .txt score files easily. By launching ScoringReader.m, an array containing the scoring of the macrostructure, and three arrays containing the starting time of the CAP A phases, their duration and their subtype, are generated. The hypnogram is reported as 0 for wake, 1 to 4 for the sleep stages, according to R&K rules, and 5 for REM. The Matlab function CAP.m computes, starting from these variables, the CAP time and CAP rate according to Terzano's rules.
The .st score files can be read using the PhysioBank ATM and other software that reads PhysioBank-compatible annotation files. These files contain the same information as the .txt files; times are encoded as for other annotation files, and each annotation's aux string contains the associated event, duration, sleep stage, location, and (where available) body position.
Applications for this database
This database is intended to provide a useful number of carefully annotated examples of CAP in a representative variety of pathophysiologic contexts, for development and evaluation of automated CAP analyzers, as well as to support basic studies of the dynamics of CAP.
Several efforts have been made to develop a reliable automatic CAP-scoring algorithm [11]. Most of these methods rely on the extraction of spectral features from the EEG and on the application of machine-learning algorithms. Although all these methods achieve good results, none of them is yet applied to clinical practice since they either require some amount of clinician intervention or do not achieve a sufficient accuracy in the classification to support the clinical diagnosis. Some recordings from this database have been used for studies on features related to CAP phase A [12-16] and for training automatic CAP detection algorithms [17].
Acknowledgements
The CAP Sleep Database was contributed to PhysioNet by Professor Mario Giovanni Terzano, MD and Professor Liborio Parrino, MD. The team of sleep experts of the Sleep Disorders Center of the Ospedale Maggiore of Parma, Italy, who performed the scoring includes Andrea Grassi, MD, Fernando De Paolis, MD, Giulia Milioli, MD, Silvia Riccardi, MD, Nicoletta Azzi, BSc, and Valentina Rosso, BSc. The BIOSIP group at the Bioengineering Department of Politecnico di Milano, Italy contributed to the organization of the database and implemented the Matlab scripts.
PhysioNet also gratefully acknowledges the contributions of BIOSIP group member Sara Mariani, MSc, who coordinated the preparation of the database for public release and its documentation and related software as a PhysioNetWorks project during her visit to MIT.
Bibliography
Database files
 Name                    Last modified      Size  Description

---

 Parent Directory                             -   
 ANNOTATORS              2012-07-25 14:56   43   list of annotators
 CAP-sequence.jpg        2012-07-24 10:37   81K  
 CAP.m                   2011-08-12 13:39  1.7K  
 DOI                     2015-09-21 13:00   20   
 MD5SUMS                 2018-11-16 14:10   14K  
 RECORDS                 2012-07-24 18:49  1.0K  list of record names
 SHA1SUMS                2018-11-16 14:10   17K  
 SHA256SUMS              2018-11-16 14:10   25K  
 ScoringReader.m         2011-08-19 17:30  4.2K  
 brux1.edf               2018-11-09 14:56  221M  
 brux1.edf.st            2012-07-25 14:50   12K  
 brux1.txt               2018-11-16 13:51   72K  
 brux2.edf               2018-11-09 14:56  252M  
 brux2.edf.st            2012-07-25 14:50   47K  
 brux2.txt               2018-11-16 13:51   74K  
 gender-age.xlsx         2011-08-11 19:35   11K  
 ins1.edf                2018-11-09 14:57  253M  
 ins1.edf.st             2012-07-25 14:50   40K  
 ins1.txt                2018-11-16 13:51   42K  
 ins2.edf                2018-11-09 14:58  466M  
 ins2.edf.st             2012-07-25 14:50   64K  
 ins2.txt                2018-11-16 13:51   65K  
 ins3.edf                2018-11-09 14:58  166M  
 ins3.edf.st             2012-07-25 14:50   36K  
 ins3.txt                2018-11-16 13:51   38K  
 ins4.edf                2018-11-09 14:58  270M  
 ins4.edf.st             2012-07-25 14:50   34K  
 ins4.txt                2018-11-16 13:51   35K  
 ins5.edf                2018-11-09 14:59  378M  
 ins5.edf.st             2012-07-25 14:50   68K  
 ins5.txt                2018-11-16 13:51   70K  
 ins6.edf                2018-11-09 15:00  448M  
 ins6.edf.st             2012-07-25 14:50   43K  
 ins6.txt                2018-11-16 13:51   60K  
 ins7.edf                2018-11-09 15:00  326M  
 ins7.edf.st             2012-07-25 14:50   61K  
 ins7.txt                2018-11-16 13:51   63K  
 ins8.edf                2018-11-09 15:01  418M  
 ins8.edf.st             2012-07-25 14:50   39K  
 ins8.txt                2018-11-16 13:51   61K  
 ins9.edf                2018-11-09 15:02  520M  
 ins9.edf.st             2012-07-25 14:50   42K  
 ins9.txt                2018-11-16 13:51   65K  
 n1.edf                  2018-11-09 15:02  473M  
 n1.edf.st               2012-07-25 14:50   52K  
 n1.txt                  2018-11-16 13:51   82K  
 n10.edf                 2018-11-09 15:06  452M  
 n10.edf.st              2012-07-25 14:50   35K  
 n10.txt                 2018-11-16 13:51   55K  
 n11.edf                 2018-11-09 15:07  494M  
 n11.edf.st              2012-07-25 14:50   44K  
 n11.txt                 2018-11-16 13:51   70K  
 n12.edf                 2018-11-09 15:07   51M  
 n12.edf.st              2012-07-25 14:50   37K  
 n12.txt                 2018-11-16 13:51   60K  
 n13.edf                 2018-11-09 15:08  118M  
 n13.edf.st              2012-07-25 14:50   45K  
 n13.txt                 2018-11-16 13:51   71K  
 n14.edf                 2018-11-09 15:08  124M  
 n14.edf.st              2012-07-25 14:50   43K  
 n14.txt                 2018-11-16 13:51   68K  
 n15.edf                 2018-11-14 16:39  124M  
 n15.edf.st              2012-07-25 14:50   42K  
 n15.txt                 2018-11-16 13:51   69K  
 n16.edf                 2018-11-09 15:08   29M  
 n16.edf.st              2012-07-25 14:50   43K  
 n16.txt                 2018-11-16 13:51   73K  
 n2.edf                  2018-11-09 15:03  356M  
 n2.edf.st               2012-07-25 14:50   42K  
 n2.txt                  2018-11-16 13:51   44K  
 n3.edf                  2018-11-09 15:04  525M  
 n3.edf.st               2012-07-25 14:50   42K  
 n3.txt                  2018-11-16 13:51   44K  
 n4.edf                  2018-11-14 16:40  123M  
 n4.edf.st               2012-07-25 14:50   51K  
 n4.txt                  2018-11-16 13:51   53K  
 n5.edf                  2018-11-09 15:05  499M  
 n5.edf.st               2012-07-25 14:50   49K  
 n5.txt                  2018-11-16 13:51   77K  
 n6.edf                  2018-11-09 15:05   62M  
 n6.edf.st               2012-07-25 14:50   45K  
 n6.txt                  2018-11-16 13:51   47K  
 n7.edf                  2018-11-09 15:05   58M  
 n7.edf.st               2012-07-25 14:50   42K  
 n7.txt                  2018-11-16 13:51   68K  
 n8.edf                  2018-11-14 16:40   88M  
 n8.edf.st               2012-07-25 14:50   49K  
 n8.txt                  2018-11-16 13:51   51K  
 n9.edf                  2018-11-09 15:06   62M  
 n9.edf.st               2012-07-25 14:50   39K  
 n9.txt                  2018-11-16 13:51   63K  
 narco1.edf              2018-11-09 15:09  318M  
 narco1.edf.st           2012-07-25 14:50   41K  
 narco1.txt              2018-11-16 13:51   43K  
 narco2.edf              2018-11-09 15:09  257M  
 narco2.edf.st           2012-07-25 14:50   12K  
 narco2.txt              2018-11-16 13:51   65K  
 narco3.edf              2018-11-09 15:10  416M  
 narco3.edf.st           2012-07-25 14:50   64K  
 narco3.txt              2018-11-16 13:51   94K  
 narco4.edf              2018-11-09 15:11  518M  
 narco4.edf.st           2012-07-25 14:50   48K  
 narco4.txt              2018-11-16 13:51   75K  
 narco5.edf              2018-11-09 15:11  191M  
 narco5.edf.st           2012-07-25 14:50   32K  
 narco5.txt              2018-11-16 13:51   45K  
 nfle1.edf               2018-11-09 15:12  510M  
 nfle1.edf.st            2012-07-25 14:50   49K  
 nfle1.txt               2018-11-16 13:51   77K  
 nfle10.edf              2018-11-09 15:18  158M  
 nfle10.edf.st           2012-07-25 14:50   46K  
 nfle10.txt              2018-11-16 13:51   72K  
 nfle11.edf              2018-11-09 15:18  165M  
 nfle11.edf.st           2012-07-25 14:50   49K  
 nfle11.txt              2018-11-16 13:51   78K  
 nfle12.edf              2018-11-09 15:19  547M  
 nfle12.edf.st           2012-07-25 14:50   51K  
 nfle12.txt              2018-11-16 13:51   53K  
 nfle13.edf              2018-11-09 15:20  514M  
 nfle13.edf.st           2012-07-25 14:50   59K  
 nfle13.txt              2018-11-16 13:51   93K  
 nfle14.edf              2018-11-09 15:21  482M  
 nfle14.edf.st           2012-07-25 14:50   44K  
 nfle14.txt              2018-11-16 13:51   69K  
 nfle15.edf              2018-11-09 15:22  544M  
 nfle15.edf.st           2012-07-25 14:50   50K  
 nfle15.txt              2018-11-16 13:51   80K  
 nfle16.edf              2018-11-09 15:22  525M  
 nfle16.edf.st           2012-07-25 14:50   52K  
 nfle16.txt              2018-11-16 13:51   81K  
 nfle17.edf              2018-11-09 15:26  457M  
 nfle17.edf.st           2012-07-25 14:50   47K  
 nfle17.txt              2018-11-16 13:51   73K  
 nfle18.edf              2018-11-09 15:27  542M  
 nfle18.edf.st           2012-07-25 14:50   52K  
 nfle18.txt              2018-11-16 13:51   81K  
 nfle19.edf              2018-11-09 15:28  146M  
 nfle19.edf.st           2012-07-25 14:50   49K  
 nfle19.txt              2018-11-16 13:51   77K  
 nfle2.edf               2018-11-09 15:12  491M  
 nfle2.edf.st            2012-07-25 14:50   48K  
 nfle2.txt               2018-11-16 13:51   51K  
 nfle20.edf              2018-11-09 15:28  183M  
 nfle20.edf.st           2012-07-25 14:50   45K  
 nfle20.txt              2018-11-16 13:51   72K  
 nfle21.edf              2018-11-09 15:29  542M  
 nfle21.edf.st           2012-07-25 14:50   64K  
 nfle21.txt              2018-11-16 13:51   67K  
 nfle22.edf              2018-11-09 15:30  531M  
 nfle22.edf.st           2012-07-25 14:50   54K  
 nfle22.txt              2018-11-16 13:51   56K  
 nfle23.edf              2018-11-09 15:30  169M  
 nfle23.edf.st           2012-07-25 14:50   47K  
 nfle23.txt              2018-11-16 13:51   75K  
 nfle24.edf              2018-11-09 15:31  482M  
 nfle24.edf.st           2012-07-25 14:50   48K  
 nfle24.txt              2018-11-16 13:51   76K  
 nfle25.edf              2018-11-09 15:31  226M  
 nfle25.edf.st           2012-07-25 14:50   50K  
 nfle25.txt              2018-11-16 13:51   80K  
 nfle26.edf              2018-11-09 15:31  157M  
 nfle26.edf.st           2012-07-25 14:50   44K  
 nfle26.txt              2018-11-16 13:51   68K  
 nfle27.edf              2018-11-09 15:32  556M  
 nfle27.edf.st           2012-07-25 14:50   34K  
 nfle27.txt              2018-11-16 13:51   59K  
 nfle28.edf              2018-11-09 15:33  567M  
 nfle28.edf.st           2012-07-25 14:50   51K  
 nfle28.txt              2018-11-16 13:51   80K  
 nfle29.edf              2018-11-09 15:34  477M  
 nfle29.edf.st           2012-07-25 14:50   48K  
 nfle29.txt              2018-11-16 13:51   50K  
 nfle3.edf               2018-11-09 15:13  572M  
 nfle3.edf.st            2012-07-25 14:50   50K  
 nfle3.txt               2018-11-16 13:51   78K  
 nfle30.edf              2018-11-09 15:35  545M  
 nfle30.edf.st           2012-07-25 14:50   46K  
 nfle30.txt              2018-11-16 13:51   72K  
 nfle31.edf              2018-11-09 15:35  178M  
 nfle31.edf.st           2012-07-25 14:50   40K  
 nfle31.txt              2018-11-16 13:51   64K  
 nfle32.edf              2018-11-09 15:36  479M  
 nfle32.edf.st           2012-07-25 14:50   52K  
 nfle32.txt              2018-11-16 13:51   54K  
 nfle33.edf              2018-11-09 15:37  739M  
 nfle33.edf.st           2012-07-25 14:50   51K  
 nfle33.txt              2018-11-16 13:51   79K  
 nfle34.edf              2018-11-09 15:38  526M  
 nfle34.edf.st           2012-07-25 14:50   47K  
 nfle34.txt              2018-11-16 13:51   74K  
 nfle35.edf              2018-11-09 15:39  471M  
 nfle35.edf.st           2012-07-25 14:50   40K  
 nfle35.txt              2018-11-16 13:51   42K  
 nfle36.edf              2018-11-09 15:40  520M  
 nfle36.edf.st           2012-07-25 14:50   47K  
 nfle36.txt              2018-11-16 13:51   73K  
 nfle37.edf              2018-11-09 15:41  480M  
 nfle37.edf.st           2012-07-25 14:50   46K  
 nfle37.txt              2018-11-16 13:51   74K  
 nfle38.edf              2018-11-09 15:41  529M  
 nfle38.edf.st           2012-07-25 14:50   49K  
 nfle38.txt              2018-11-16 13:51   77K  
 nfle39.edf              2018-11-09 15:42  471M  
 nfle39.edf.st           2012-07-25 14:50   46K  
 nfle39.txt              2018-11-16 13:51   72K  
 nfle4.edf               2018-11-09 15:14  551M  
 nfle4.edf.st            2012-07-25 14:50   53K  
 nfle4.txt               2018-11-16 13:52   84K  
 nfle40.edf              2018-11-09 15:43  563M  
 nfle40.edf.st           2012-07-25 14:50   58K  
 nfle40.txt              2018-11-16 13:52   92K  
 nfle5.edf               2018-11-09 15:15  518M  
 nfle5.edf.st            2012-07-25 14:50   52K  
 nfle5.txt               2018-11-16 13:52   54K  
 nfle6.edf               2018-11-09 15:15  153M  
 nfle6.edf.st            2012-07-25 14:50   35K  
 nfle6.txt               2018-11-16 13:52   55K  
 nfle7.edf               2018-11-09 15:16  534M  
 nfle7.edf.st            2012-07-25 14:50   63K  
 nfle7.txt               2018-11-16 13:52  100K  
 nfle8.edf               2018-11-09 15:17  232M  
 nfle8.edf.st            2012-07-25 14:50   45K  
 nfle8.txt               2018-11-16 13:52   72K  
 nfle9.edf               2018-11-09 15:18  601M  
 nfle9.edf.st            2012-07-25 14:50   54K  
 nfle9.txt               2018-11-16 13:52   56K  
 plm1.edf                2018-11-09 15:44  276M  
 plm1.edf.st             2012-07-25 14:50   55K  
 plm1.txt                2018-11-16 13:52   87K  
 plm10.edf               2018-11-09 15:49  360M  
 plm10.edf.st            2012-07-25 14:50   46K  
 plm10.txt               2018-11-16 13:52   72K  
 plm2.edf                2018-11-09 15:45  357M  
 plm2.edf.st             2012-07-25 14:50   40K  
 plm2.txt                2018-11-16 13:52   63K  
 plm3.edf                2018-11-09 15:45  382M  
 plm3.edf.st             2012-07-25 14:50   49K  
 plm3.txt                2018-11-16 13:52   78K  
 plm4.edf                2018-11-09 15:46  326M  
 plm4.edf.st             2012-07-25 14:50   41K  
 plm4.txt                2018-11-16 13:52   43K  
 plm5.edf                2018-11-09 15:46  428M  
 plm5.edf.st             2012-07-25 14:50   39K  
 plm5.txt                2018-11-16 13:52   41K  
 plm6.edf                2018-11-09 15:47  500M  
 plm6.edf.st             2012-07-25 14:50   33K  
 plm6.txt                2018-11-16 13:52   51K  
 plm7.edf                2018-11-09 15:48  293M  
 plm7.edf.st             2012-07-25 14:50   44K  
 plm7.txt                2018-11-16 13:52   69K  
 plm8.edf                2018-11-09 15:48  232M  
 plm8.edf.st             2012-07-25 14:50   37K  
 plm8.txt                2018-11-16 13:52   39K  
 plm9.edf                2018-11-09 15:49  491M  
 plm9.edf.st             2012-07-25 14:50   42K  
 plm9.txt                2018-11-16 13:52   66K  
 rbd1.edf                2018-11-09 15:50  303M  
 rbd1.edf.st             2012-07-25 14:50   29K  
 rbd1.txt                2018-11-16 13:52   46K  
 rbd10.edf               2018-11-09 15:57  358M  
 rbd10.edf.st            2012-07-25 14:50   34K  
 rbd10.txt               2018-11-16 13:52   52K  
 rbd11.edf               2018-11-09 15:58  358M  
 rbd11.edf.st            2012-07-25 14:50   33K  
 rbd11.txt               2018-11-16 13:52   35K  
 rbd12.edf               2018-11-09 15:59  456M  
 rbd12.edf.st            2012-07-25 14:50   45K  
 rbd12.txt               2018-11-16 13:52   47K  
 rbd13.edf               2018-11-09 15:59  489M  
 rbd13.edf.st            2012-07-25 14:50   57K  
 rbd13.txt               2018-11-16 13:52   59K  
 rbd14.edf               2018-11-09 16:00  339M  
 rbd14.edf.st            2012-07-25 14:50   49K  
 rbd14.txt               2018-11-16 13:52   76K  
 rbd15.edf               2018-11-09 16:01  485M  
 rbd15.edf.st            2012-07-25 14:50   39K  
 rbd15.txt               2018-11-16 13:52   60K  
 rbd16.edf               2018-11-09 16:02  471M  
 rbd16.edf.st            2012-07-25 14:50   48K  
 rbd16.txt               2018-11-16 13:52   76K  
 rbd17.edf               2018-11-09 16:02  367M  
 rbd17.edf.st            2012-07-25 14:50   50K  
 rbd17.txt               2018-11-16 13:52   78K  
 rbd18.edf               2018-11-09 16:03  516M  
 rbd18.edf.st            2012-07-25 14:50   40K  
 rbd18.txt               2018-11-16 13:52   64K  
 rbd19.edf               2018-11-09 16:04  522M  
 rbd19.edf.st            2012-07-25 14:50   46K  
 rbd19.txt               2018-11-16 13:52   73K  
 rbd2.edf                2018-11-09 15:51  542M  
 rbd2.edf.st             2012-07-25 14:50   60K  
 rbd2.txt                2018-11-16 13:52   94K  
 rbd20.edf               2018-11-09 16:04  297M  
 rbd20.edf.st            2012-07-25 14:50   35K  
 rbd20.txt               2018-11-16 13:52   55K  
 rbd21.edf               2018-11-09 16:05  460M  
 rbd21.edf.st            2012-07-25 14:50   53K  
 rbd21.txt               2018-11-16 13:52   55K  
 rbd22.edf               2018-11-09 16:06  484M  
 rbd22.edf.st            2012-07-25 14:50   48K  
 rbd22.txt               2018-11-16 13:52   75K  
 rbd3.edf                2018-11-09 15:52  572M  
 rbd3.edf.st             2012-07-25 14:50   56K  
 rbd3.txt                2018-11-16 13:52   58K  
 rbd4.edf                2018-11-09 15:53  523M  
 rbd4.edf.st             2012-07-25 14:50   57K  
 rbd4.txt                2018-11-16 13:52   59K  
 rbd5.edf                2018-11-09 15:54  484M  
 rbd5.edf.st             2012-07-25 14:50   54K  
 rbd5.txt                2018-11-16 13:52   56K  
 rbd6.edf                2018-11-09 15:54  527M  
 rbd6.edf.st             2012-07-25 14:50   30K  
 rbd6.txt                2018-11-16 13:52   31K  
 rbd7.edf                2018-11-09 15:55  444M  
 rbd7.edf.st             2012-07-25 14:50   44K  
 rbd7.txt                2018-11-16 13:52   69K  
 rbd8.edf                2018-11-09 15:56  449M  
 rbd8.edf.st             2012-07-25 14:50   52K  
 rbd8.txt                2018-11-16 13:52   82K  
 rbd9.edf                2018-11-09 15:57  485M  
 rbd9.edf.st             2012-07-25 14:50   45K  
 rbd9.txt                2018-11-16 13:52   71K  
 sdb1.edf                2018-11-09 16:06  139M  
 sdb1.edf.st             2012-07-25 14:50   32K  
 sdb1.txt                2018-11-16 13:52   51K  
 sdb2.edf                2018-11-09 16:06  143M  
 sdb2.edf.st             2012-07-25 14:50   48K  
 sdb2.txt                2018-11-16 13:52   76K  
 sdb3.edf                2018-11-09 16:07  308M  
 sdb3.edf.st             2012-07-25 14:50   37K  
 sdb3.txt                2018-11-16 13:52   39K  
 sdb4.edf                2018-11-09 14:55  206M  
 sdb4.edf.st             2012-07-25 14:50   59K  
 sdb4.txt                2018-11-16 13:52   95K  


---