This database is described in
Please cite this publication when referencing this material, and also include the standard citation for PhysioNet:
Goldberger AL, Amaral LAN, Glass L, Hausdorff JM, Ivanov PCh, Mark RG, Mietus JE, Moody GB, Peng C-K, Stanley HE. PhysioBank, PhysioToolkit, and PhysioNet: Components of a New Research Resource for Complex Physiologic Signals.
Circulation
101
(23):e215-e220 [Circulation Electronic Pages;
http://circ.ahajournals.org/content/101/23/e215.full
]; 2000 (June 13).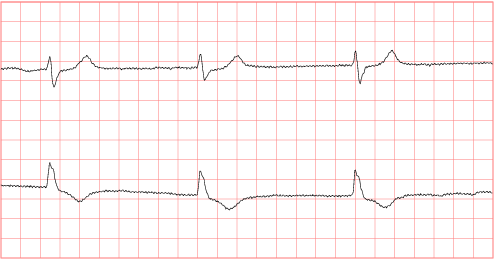 This database contains 168 short ECG recordings (20.48 seconds each) selected to pose a variety of challenges for ECG compressors, in particular for lossy compression methods.
 Name                    Last modified      Size  Description

---

 Parent Directory                             -   
 08730_01.dat            1992-07-30 01:28   15K  digitized signal(s)
 08730_01.hea            2008-04-05 18:05  106   header file
 08730_01.hea-           1992-07-30 01:28  124   header file
 08730_01.xws            1999-12-12 17:27   86   WAVEScript
 08730_02.dat            1992-07-30 01:28   15K  digitized signal(s)
 08730_02.hea            2008-04-05 18:05  108   header file
 08730_02.hea-           1992-07-30 01:28  126   header file
 08730_02.xws            1999-12-12 17:27   86   WAVEScript
 08730_03.dat            1992-07-30 01:28   15K  digitized signal(s)
 08730_03.hea            2008-04-05 18:05  108   header file
 08730_03.hea-           1992-07-30 01:28  126   header file
 08730_03.xws            1999-12-12 17:27   86   WAVEScript
 08730_04.dat            1992-07-30 01:28   15K  digitized signal(s)
 08730_04.hea            2008-04-05 18:05  107   header file
 08730_04.hea-           1992-07-30 01:28  125   header file
 08730_04.xws            1999-12-12 17:27   86   WAVEScript
 08730_05.dat            1992-07-30 01:28   15K  digitized signal(s)
 08730_05.hea            2008-04-05 18:05  107   header file
 08730_05.hea-           1992-07-30 01:28  125   header file
 08730_05.xws            1999-12-12 17:27   86   WAVEScript
 08730_06.dat            1992-07-30 01:28   15K  digitized signal(s)
 08730_06.hea            2008-04-05 18:05  107   header file
 08730_06.hea-           1992-07-30 01:28  125   header file
 08730_06.xws            1999-12-12 17:27   86   WAVEScript
 08730_07.dat            1992-07-30 01:28   15K  digitized signal(s)
 08730_07.hea            2008-04-05 18:05  105   header file
 08730_07.hea-           1992-07-30 01:28  123   header file
 08730_07.xws            1999-12-12 17:27   86   WAVEScript
 11442_01.dat            1992-07-30 01:28   15K  digitized signal(s)
 11442_01.hea            2008-04-05 18:05  106   header file
 11442_01.hea-           1992-07-30 01:28  124   header file
 11442_01.xws            1999-12-12 17:27   86   WAVEScript
 11442_02.dat            1992-07-30 01:28   15K  digitized signal(s)
 11442_02.hea            2008-04-05 18:05  107   header file
 11442_02.hea-           1992-07-30 01:28  125   header file
 11442_02.xws            1999-12-12 17:27   86   WAVEScript
 11442_03.dat            1992-07-30 01:28   15K  digitized signal(s)
 11442_03.hea            2008-04-05 18:05  110   header file
 11442_03.hea-           1992-07-30 01:28  128   header file
 11442_03.xws            1999-12-12 17:27   86   WAVEScript
 11442_04.dat            1992-07-30 01:28   15K  digitized signal(s)
 11442_04.hea            2008-04-05 18:05  108   header file
 11442_04.hea-           1992-07-30 01:28  126   header file
 11442_04.xws            1999-12-12 17:27   86   WAVEScript
 11950_01.dat            1992-07-30 01:28   15K  digitized signal(s)
 11950_01.hea            2008-04-05 18:05  106   header file
 11950_01.hea-           1992-07-30 01:28  124   header file
 11950_01.xws            1999-12-12 17:27   86   WAVEScript
 11950_02.dat            1992-07-30 01:28   15K  digitized signal(s)
 11950_02.hea            2008-04-05 18:05  109   header file
 11950_02.hea-           1992-07-30 01:28  127   header file
 11950_02.xws            1999-12-12 17:27   86   WAVEScript
 11950_03.dat            1992-07-30 01:28   15K  digitized signal(s)
 11950_03.hea            2008-04-05 18:05  104   header file
 11950_03.hea-           1992-07-30 01:28  122   header file
 11950_03.xws            1999-12-12 17:27   86   WAVEScript
 11950_04.dat            1992-07-30 01:28   15K  digitized signal(s)
 11950_04.hea            2008-04-05 18:05  106   header file
 11950_04.hea-           1992-07-30 01:28  124   header file
 11950_04.xws            1999-12-12 17:27   86   WAVEScript
 11950_05.dat            1992-07-30 01:28   15K  digitized signal(s)
 11950_05.hea            2008-04-05 18:05  105   header file
 11950_05.hea-           1992-07-30 01:28  123   header file
 11950_05.xws            1999-12-12 17:27   86   WAVEScript
 12247_01.dat            1992-07-30 01:28   15K  digitized signal(s)
 12247_01.hea            2008-04-05 18:05  106   header file
 12247_01.hea-           1992-07-30 01:28  124   header file
 12247_01.xws            1999-12-12 17:27   86   WAVEScript
 12247_02.dat            1992-07-30 01:28   15K  digitized signal(s)
 12247_02.hea            2008-04-05 18:05  108   header file
 12247_02.hea-           1992-07-30 01:28  126   header file
 12247_02.xws            1999-12-12 17:27   86   WAVEScript
 12247_03.dat            1992-07-30 01:28   15K  digitized signal(s)
 12247_03.hea            2008-04-05 18:05  103   header file
 12247_03.hea-           1992-07-30 01:28  121   header file
 12247_03.xws            1999-12-12 17:27   86   WAVEScript
 12247_04.dat            1992-07-30 01:28   15K  digitized signal(s)
 12247_04.hea            2008-04-05 18:05  104   header file
 12247_04.hea-           1992-07-30 01:28  122   header file
 12247_04.xws            1999-12-12 17:27   86   WAVEScript
 12431_01.dat            1992-07-30 01:28   15K  digitized signal(s)
 12431_01.hea            2008-04-05 18:05  109   header file
 12431_01.hea-           1992-07-30 01:28  127   header file
 12431_01.xws            1999-12-12 17:27   86   WAVEScript
 12431_02.dat            1992-07-30 01:28   15K  digitized signal(s)
 12431_02.hea            2008-04-05 18:05  106   header file
 12431_02.hea-           1992-07-30 01:28  124   header file
 12431_02.xws            1999-12-12 17:27   86   WAVEScript
 12431_03.dat            1992-07-30 01:28   15K  digitized signal(s)
 12431_03.hea            2008-04-05 18:05  104   header file
 12431_03.hea-           1992-07-30 01:28  122   header file
 12431_03.xws            1999-12-12 17:27   86   WAVEScript
 12431_04.dat            1992-07-30 01:28   15K  digitized signal(s)
 12431_04.hea            2008-04-05 18:05  107   header file
 12431_04.hea-           1992-07-30 01:28  125   header file
 12431_04.xws            1999-12-12 17:27   86   WAVEScript
 12431_05.dat            1992-07-30 01:28   15K  digitized signal(s)
 12431_05.hea            2008-04-05 18:05  107   header file
 12431_05.hea-           1992-07-30 01:28  125   header file
 12431_05.xws            1999-12-12 17:27   86   WAVEScript
 12490_01.dat            1992-07-30 01:28   15K  digitized signal(s)
 12490_01.hea            2008-04-05 18:05  107   header file
 12490_01.hea-           1992-07-30 01:28  125   header file
 12490_01.xws            1999-12-12 17:27   86   WAVEScript
 12490_02.dat            1992-07-30 01:28   15K  digitized signal(s)
 12490_02.hea            2008-04-05 18:05  108   header file
 12490_02.hea-           1992-07-30 01:28  126   header file
 12490_02.xws            1999-12-12 17:27   86   WAVEScript
 12531_01.dat            1992-07-30 01:28   15K  digitized signal(s)
 12531_01.hea            2008-04-05 18:05  105   header file
 12531_01.hea-           1992-07-30 01:28  123   header file
 12531_01.xws            1999-12-12 17:27   86   WAVEScript
 12531_02.dat            1992-07-30 01:28   15K  digitized signal(s)
 12531_02.hea            2008-04-05 18:05  106   header file
 12531_02.hea-           1992-07-30 01:28  124   header file
 12531_02.xws            1999-12-12 17:27   86   WAVEScript
 12531_03.dat            1992-07-30 01:28   15K  digitized signal(s)
 12531_03.hea            2008-04-05 18:05  108   header file
 12531_03.hea-           1992-07-30 01:28  126   header file
 12531_03.xws            1999-12-12 17:27   86   WAVEScript
 12531_04.dat            1992-07-30 01:28   15K  digitized signal(s)
 12531_04.hea            2008-04-05 18:05  106   header file
 12531_04.hea-           1992-07-30 01:28  124   header file
 12531_04.xws            1999-12-12 17:27   86   WAVEScript
 12531_05.dat            1992-07-30 01:28   15K  digitized signal(s)
 12531_05.hea            2008-04-05 18:05  106   header file
 12531_05.hea-           1992-07-30 01:28  124   header file
 12531_05.xws            1999-12-12 17:27   86   WAVEScript
 12621_01.dat            1992-07-30 01:28   15K  digitized signal(s)
 12621_01.hea            2008-04-05 18:05  110   header file
 12621_01.hea-           1992-07-30 01:28  128   header file
 12621_01.xws            1999-12-12 17:27   86   WAVEScript
 12621_02.dat            1992-07-30 01:28   15K  digitized signal(s)
 12621_02.hea            2008-04-05 18:05  107   header file
 12621_02.hea-           1992-07-30 01:28  125   header file
 12621_02.xws            1999-12-12 17:27   86   WAVEScript
 12621_03.dat            1992-07-30 01:28   15K  digitized signal(s)
 12621_03.hea            2008-04-05 18:05  108   header file
 12621_03.hea-           1992-07-30 01:28  126   header file
 12621_03.xws            1999-12-12 17:27   86   WAVEScript
 12621_04.dat            1992-07-30 01:28   15K  digitized signal(s)
 12621_04.hea            2008-04-05 18:05  106   header file
 12621_04.hea-           1992-07-30 01:28  124   header file
 12621_04.xws            1999-12-12 17:27   86   WAVEScript
 12713_01.dat            1992-07-30 01:28   15K  digitized signal(s)
 12713_01.hea            2008-04-05 18:05  104   header file
 12713_01.hea-           1992-07-30 01:28  122   header file
 12713_01.xws            1999-12-12 17:27   86   WAVEScript
 12713_02.dat            1992-07-30 01:28   15K  digitized signal(s)
 12713_02.hea            2008-04-05 18:05  104   header file
 12713_02.hea-           1992-07-30 01:28  122   header file
 12713_02.xws            1999-12-12 17:27   86   WAVEScript
 12713_03.dat            1992-07-30 01:28   15K  digitized signal(s)
 12713_03.hea            2008-04-05 18:05  105   header file
 12713_03.hea-           1992-07-30 01:28  123   header file
 12713_03.xws            1999-12-12 17:27   86   WAVEScript
 12713_04.dat            1992-07-30 01:28   15K  digitized signal(s)
 12713_04.hea            2008-04-05 18:05  106   header file
 12713_04.hea-           1992-07-30 01:28  124   header file
 12713_04.xws            1999-12-12 17:27   86   WAVEScript
 12921_01.dat            1992-07-30 01:28   15K  digitized signal(s)
 12921_01.hea            2008-04-05 18:05  107   header file
 12921_01.hea-           1992-07-30 01:28  125   header file
 12921_01.xws            1999-12-12 17:27   86   WAVEScript
 12936_01.dat            1992-07-30 01:28   15K  digitized signal(s)
 12936_01.hea            2008-04-05 18:05  107   header file
 12936_01.hea-           1992-07-30 01:28  125   header file
 12936_01.xws            1999-12-12 17:27   86   WAVEScript
 12936_02.dat            1992-07-30 01:28   15K  digitized signal(s)
 12936_02.hea            2008-04-05 18:05  107   header file
 12936_02.hea-           1992-07-30 01:28  125   header file
 12936_02.xws            1999-12-12 17:27   86   WAVEScript
 12936_03.dat            1992-07-30 01:28   15K  digitized signal(s)
 12936_03.hea            2008-04-05 18:05  108   header file
 12936_03.hea-           1992-07-30 01:28  126   header file
 12936_03.xws            1999-12-12 17:27   86   WAVEScript
 12940_01.dat            1992-07-30 01:28   15K  digitized signal(s)
 12940_01.hea            2008-04-05 18:05  106   header file
 12940_01.hea-           1992-07-30 01:28  124   header file
 12940_01.xws            1999-12-12 17:27   86   WAVEScript
 12940_02.dat            1992-07-30 01:28   15K  digitized signal(s)
 12940_02.hea            2008-04-05 18:05  106   header file
 12940_02.hea-           1992-07-30 01:28  124   header file
 12940_02.xws            1999-12-12 17:27   86   WAVEScript
 12940_03.dat            1992-07-30 01:28   15K  digitized signal(s)
 12940_03.hea            2008-04-05 18:05  106   header file
 12940_03.hea-           1992-07-30 01:28  124   header file
 12940_03.xws            1999-12-12 17:27   86   WAVEScript
 12940_04.dat            1992-07-30 01:28   15K  digitized signal(s)
 12940_04.hea            2008-04-05 18:05  108   header file
 12940_04.hea-           1992-07-30 01:28  126   header file
 12940_04.xws            1999-12-12 17:27   86   WAVEScript
 12940_05.dat            1992-07-30 01:28   15K  digitized signal(s)
 12940_05.hea            2008-04-05 18:05  108   header file
 12940_05.hea-           1992-07-30 01:28  126   header file
 12940_05.xws            1999-12-12 17:27   86   WAVEScript
 12981_01.dat            1992-07-30 01:28   15K  digitized signal(s)
 12981_01.hea            2008-04-05 18:05  106   header file
 12981_01.hea-           1992-07-30 01:28  124   header file
 12981_01.xws            1999-12-12 17:27   86   WAVEScript
 12981_02.dat            1992-07-30 01:28   15K  digitized signal(s)
 12981_02.hea            2008-04-05 18:05  108   header file
 12981_02.hea-           1992-07-30 01:28  126   header file
 12981_02.xws            1999-12-12 17:27   86   WAVEScript
 12981_03.dat            1992-07-30 01:28   15K  digitized signal(s)
 12981_03.hea            2008-04-05 18:05  108   header file
 12981_03.hea-           1992-07-30 01:28  126   header file
 12981_03.xws            1999-12-12 17:27   86   WAVEScript
 13005_01.dat            1992-07-30 01:28   15K  digitized signal(s)
 13005_01.hea            2008-04-05 18:05  106   header file
 13005_01.hea-           1992-07-30 01:28  124   header file
 13005_01.xws            1999-12-12 17:27   86   WAVEScript
 13005_02.dat            1992-07-30 01:28   15K  digitized signal(s)
 13005_02.hea            2008-04-05 18:05  108   header file
 13005_02.hea-           1992-07-30 01:28  126   header file
 13005_02.xws            1999-12-12 17:27   86   WAVEScript
 13030_01.dat            1992-07-30 01:28   15K  digitized signal(s)
 13030_01.hea            2008-04-05 18:05  107   header file
 13030_01.hea-           1992-07-30 01:28  125   header file
 13030_01.xws            1999-12-12 17:27   86   WAVEScript
 13030_02.dat            1992-07-30 01:28   15K  digitized signal(s)
 13030_02.hea            2008-04-05 18:05  106   header file
 13030_02.hea-           1992-07-30 01:28  124   header file
 13030_02.xws            1999-12-12 17:27   86   WAVEScript
 13030_03.dat            1992-07-30 01:28   15K  digitized signal(s)
 13030_03.hea            2008-04-05 18:05  106   header file
 13030_03.hea-           1992-07-30 01:28  124   header file
 13030_03.xws            1999-12-12 17:27   86   WAVEScript
 13030_04.dat            1992-07-30 01:28   15K  digitized signal(s)
 13030_04.hea            2008-04-05 18:05  106   header file
 13030_04.hea-           1992-07-30 01:28  124   header file
 13030_04.xws            1999-12-12 17:27   86   WAVEScript
 13030_05.dat            1992-07-30 01:28   15K  digitized signal(s)
 13030_05.hea            2008-04-05 18:05  106   header file
 13030_05.hea-           1992-07-30 01:28  124   header file
 13030_05.xws            1999-12-12 17:27   86   WAVEScript
 13045_01.dat            1992-07-30 01:28   15K  digitized signal(s)
 13045_01.hea            2008-04-05 18:05  106   header file
 13045_01.hea-           1992-07-30 01:28  124   header file
 13045_01.xws            1999-12-12 17:27   86   WAVEScript
 13045_02.dat            1992-07-30 01:28   15K  digitized signal(s)
 13045_02.hea            2008-04-05 18:05  109   header file
 13045_02.hea-           1992-07-30 01:28  127   header file
 13045_02.xws            1999-12-12 17:27   86   WAVEScript
 13045_03.dat            1992-07-30 01:28   15K  digitized signal(s)
 13045_03.hea            2008-04-05 18:05  107   header file
 13045_03.hea-           1992-07-30 01:28  125   header file
 13045_03.xws            1999-12-12 17:27   86   WAVEScript
 13059_01.dat            1992-07-30 01:28   15K  digitized signal(s)
 13059_01.hea            2008-04-05 18:05  108   header file
 13059_01.hea-           1992-07-30 01:28  126   header file
 13059_01.xws            1999-12-12 17:27   86   WAVEScript
 13059_02.dat            1992-07-30 01:28   15K  digitized signal(s)
 13059_02.hea            2008-04-05 18:05  107   header file
 13059_02.hea-           1992-07-30 01:28  125   header file
 13059_02.xws            1999-12-12 17:27   86   WAVEScript
 13059_03.dat            1992-07-30 01:28   15K  digitized signal(s)
 13059_03.hea            2008-04-05 18:05  108   header file
 13059_03.hea-           1992-07-30 01:28  126   header file
 13059_03.xws            1999-12-12 17:27   86   WAVEScript
 13059_04.dat            1992-07-30 01:28   15K  digitized signal(s)
 13059_04.hea            2008-04-05 18:05  107   header file
 13059_04.hea-           1992-07-30 01:28  125   header file
 13059_04.xws            1999-12-12 17:27   86   WAVEScript
 13059_05.dat            1992-07-30 01:28   15K  digitized signal(s)
 13059_05.hea            2008-04-05 18:05  107   header file
 13059_05.hea-           1992-07-30 01:28  125   header file
 13059_05.xws            1999-12-12 17:27   86   WAVEScript
 13059_06.dat            1992-07-30 01:28   15K  digitized signal(s)
 13059_06.hea            2008-04-05 18:05  107   header file
 13059_06.hea-           1992-07-30 01:28  125   header file
 13059_06.xws            1999-12-12 17:27   86   WAVEScript
 13059_07.dat            1992-07-30 01:28   15K  digitized signal(s)
 13059_07.hea            2008-04-05 18:05  107   header file
 13059_07.hea-           1992-07-30 01:28  125   header file
 13059_07.xws            1999-12-12 17:27   86   WAVEScript
 13130_01.dat            1992-07-30 01:28   15K  digitized signal(s)
 13130_01.hea            2008-04-05 18:05  106   header file
 13130_01.hea-           1992-07-30 01:28  124   header file
 13130_01.xws            1999-12-12 17:27   86   WAVEScript
 13130_02.dat            1992-07-30 01:28   15K  digitized signal(s)
 13130_02.hea            2008-04-05 18:05  107   header file
 13130_02.hea-           1992-07-30 01:28  125   header file
 13130_02.xws            1999-12-12 17:27   86   WAVEScript
 13139_01.dat            1992-07-30 01:28   15K  digitized signal(s)
 13139_01.hea            2008-04-05 18:05  109   header file
 13139_01.hea-           1992-07-30 01:28  127   header file
 13139_01.xws            1999-12-12 17:27   86   WAVEScript
 13139_02.dat            1992-07-30 01:28   15K  digitized signal(s)
 13139_02.hea            2008-04-05 18:05  104   header file
 13139_02.hea-           1992-07-30 01:28  122   header file
 13139_02.xws            1999-12-12 17:27   86   WAVEScript
 13139_03.dat            1992-07-30 01:28   15K  digitized signal(s)
 13139_03.hea            2008-04-05 18:05  108   header file
 13139_03.hea-           1992-07-30 01:28  126   header file
 13139_03.xws            1999-12-12 17:27   86   WAVEScript
 13227_01.dat            1992-07-30 01:28   15K  digitized signal(s)
 13227_01.hea            2008-04-05 18:05  108   header file
 13227_01.hea-           1992-07-30 01:28  126   header file
 13227_01.xws            1999-12-12 17:27   86   WAVEScript
 13227_02.dat            1992-07-30 01:28   15K  digitized signal(s)
 13227_02.hea            2008-04-05 18:05  106   header file
 13227_02.hea-           1992-07-30 01:28  124   header file
 13227_02.xws            1999-12-12 17:27   86   WAVEScript
 13227_03.dat            1992-07-30 01:28   15K  digitized signal(s)
 13227_03.hea            2008-04-05 18:05  105   header file
 13227_03.hea-           1992-07-30 01:28  123   header file
 13227_03.xws            1999-12-12 17:27   86   WAVEScript
 13227_04.dat            1992-07-30 01:28   15K  digitized signal(s)
 13227_04.hea            2008-04-05 18:05  102   header file
 13227_04.hea-           1992-07-30 01:28  120   header file
 13227_04.xws            1999-12-12 17:27   86   WAVEScript
 13227_05.dat            1992-07-30 01:28   15K  digitized signal(s)
 13227_05.hea            2008-04-05 18:05  105   header file
 13227_05.hea-           1992-07-30 01:28  123   header file
 13227_05.xws            1999-12-12 17:27   86   WAVEScript
 13227_06.dat            1992-07-30 01:28   15K  digitized signal(s)
 13227_06.hea            2008-04-05 18:05  106   header file
 13227_06.hea-           1992-07-30 01:28  124   header file
 13227_06.xws            1999-12-12 17:27   86   WAVEScript
 13229_01.dat            1992-07-30 01:28   15K  digitized signal(s)
 13229_01.hea            2008-04-05 18:05  106   header file
 13229_01.hea-           1992-07-30 01:28  124   header file
 13229_01.xws            1999-12-12 17:27   86   WAVEScript
 13229_02.dat            1992-07-30 01:28   15K  digitized signal(s)
 13229_02.hea            2008-04-05 18:05  107   header file
 13229_02.hea-           1992-07-30 01:28  125   header file
 13229_02.xws            1999-12-12 17:27   86   WAVEScript
 13229_03.dat            1992-07-30 01:28   15K  digitized signal(s)
 13229_03.hea            2008-04-05 18:05  108   header file
 13229_03.hea-           1992-07-30 01:28  126   header file
 13229_03.xws            1999-12-12 17:27   86   WAVEScript
 13229_04.dat            1992-07-30 01:28   15K  digitized signal(s)
 13229_04.hea            2008-04-05 18:05  109   header file
 13229_04.hea-           1992-07-30 01:28  127   header file
 13229_04.xws            1999-12-12 17:27   86   WAVEScript
 13274_01.dat            1992-07-30 01:28   15K  digitized signal(s)
 13274_01.hea            2008-04-05 18:05  108   header file
 13274_01.hea-           1992-07-30 01:28  126   header file
 13274_01.xws            1999-12-12 17:27   86   WAVEScript
 13274_02.dat            1992-07-30 01:28   15K  digitized signal(s)
 13274_02.hea            2008-04-05 18:05  106   header file
 13274_02.hea-           1992-07-30 01:28  124   header file
 13274_02.xws            1999-12-12 17:27   86   WAVEScript
 13274_03.dat            1992-07-30 01:28   15K  digitized signal(s)
 13274_03.hea            2008-04-05 18:05  107   header file
 13274_03.hea-           1992-07-30 01:28  125   header file
 13274_03.xws            1999-12-12 17:27   86   WAVEScript
 13274_04.dat            1992-07-30 01:28   15K  digitized signal(s)
 13274_04.hea            2008-04-05 18:05  107   header file
 13274_04.hea-           1992-07-30 01:28  125   header file
 13274_04.xws            1999-12-12 17:27   86   WAVEScript
 13274_05.dat            1992-07-30 01:28   15K  digitized signal(s)
 13274_05.hea            2008-04-05 18:05  108   header file
 13274_05.hea-           1992-07-30 01:28  126   header file
 13274_05.xws            1999-12-12 17:27   86   WAVEScript
 13301_01.dat            1992-07-30 01:28   15K  digitized signal(s)
 13301_01.hea            2008-04-05 18:05  108   header file
 13301_01.hea-           1992-07-30 01:28  126   header file
 13301_01.xws            1999-12-12 17:27   86   WAVEScript
 13301_02.dat            1992-07-30 01:28   15K  digitized signal(s)
 13301_02.hea            2008-04-05 18:05  106   header file
 13301_02.hea-           1992-07-30 01:28  124   header file
 13301_02.xws            1999-12-12 17:27   86   WAVEScript
 13301_03.dat            1992-07-30 01:28   15K  digitized signal(s)
 13301_03.hea            2008-04-05 18:05  109   header file
 13301_03.hea-           1992-07-30 01:28  127   header file
 13301_03.xws            1999-12-12 17:27   86   WAVEScript
 13301_04.dat            1992-07-30 01:28   15K  digitized signal(s)
 13301_04.hea            2008-04-05 18:05  106   header file
 13301_04.hea-           1992-07-30 01:28  124   header file
 13301_04.xws            1999-12-12 17:27   86   WAVEScript
 13317_01.dat            1992-07-30 01:28   15K  digitized signal(s)
 13317_01.hea            2008-04-05 18:05  108   header file
 13317_01.hea-           1992-07-30 01:28  126   header file
 13317_01.xws            1999-12-12 17:27   86   WAVEScript
 13317_02.dat            1992-07-30 01:28   15K  digitized signal(s)
 13317_02.hea            2008-04-05 18:05  104   header file
 13317_02.hea-           1992-07-30 01:28  122   header file
 13317_02.xws            1999-12-12 17:27   86   WAVEScript
 13317_03.dat            1992-07-30 01:28   15K  digitized signal(s)
 13317_03.hea            2008-04-05 18:05  107   header file
 13317_03.hea-           1992-07-30 01:28  125   header file
 13317_03.xws            1999-12-12 17:27   86   WAVEScript
 13317_04.dat            1992-07-30 01:28   15K  digitized signal(s)
 13317_04.hea            2008-04-05 18:05  104   header file
 13317_04.hea-           1992-07-30 01:28  122   header file
 13317_04.xws            1999-12-12 17:27   86   WAVEScript
 13317_05.dat            1992-07-30 01:28   15K  digitized signal(s)
 13317_05.hea            2008-04-05 18:05  108   header file
 13317_05.hea-           1992-07-30 01:28  126   header file
 13317_05.xws            1999-12-12 17:27   86   WAVEScript
 13370_01.dat            1992-07-30 01:28   15K  digitized signal(s)
 13370_01.hea            2008-04-05 18:05  107   header file
 13370_01.hea-           1992-07-30 01:28  125   header file
 13370_01.xws            1999-12-12 17:27   86   WAVEScript
 13370_02.dat            1992-07-30 01:28   15K  digitized signal(s)
 13370_02.hea            2008-04-05 18:05  106   header file
 13370_02.hea-           1992-07-30 01:28  124   header file
 13370_02.xws            1999-12-12 17:27   86   WAVEScript
 13380_01.dat            1992-07-30 01:28   15K  digitized signal(s)
 13380_01.hea            2008-04-05 18:05  108   header file
 13380_01.hea-           1992-07-30 01:28  126   header file
 13380_01.xws            1999-12-12 17:27   86   WAVEScript
 13380_02.dat            1992-07-30 01:28   15K  digitized signal(s)
 13380_02.hea            2008-04-05 18:05  105   header file
 13380_02.hea-           1992-07-30 01:28  123   header file
 13380_02.xws            1999-12-12 17:27   86   WAVEScript
 13380_03.dat            1992-07-30 01:28   15K  digitized signal(s)
 13380_03.hea            2008-04-05 18:05  107   header file
 13380_03.hea-           1992-07-30 01:28  125   header file
 13380_03.xws            1999-12-12 17:27   86   WAVEScript
 13380_04.dat            1992-07-30 01:28   15K  digitized signal(s)
 13380_04.hea            2008-04-05 18:05  105   header file
 13380_04.hea-           1992-07-30 01:28  123   header file
 13380_04.xws            1999-12-12 17:27   86   WAVEScript
 13380_05.dat            1992-07-30 01:28   15K  digitized signal(s)
 13380_05.hea            2008-04-05 18:05  104   header file
 13380_05.hea-           1992-07-30 01:28  122   header file
 13380_05.xws            1999-12-12 17:27   86   WAVEScript
 13420_01.dat            1992-07-30 01:28   15K  digitized signal(s)
 13420_01.hea            2008-04-05 18:05  104   header file
 13420_01.hea-           1992-07-30 01:28  122   header file
 13420_01.xws            1999-12-12 17:27   86   WAVEScript
 13420_02.dat            1992-07-30 01:28   15K  digitized signal(s)
 13420_02.hea            2008-04-05 18:05  107   header file
 13420_02.hea-           1992-07-30 01:28  125   header file
 13420_02.xws            1999-12-12 17:27   86   WAVEScript
 13420_03.dat            1992-07-30 01:28   15K  digitized signal(s)
 13420_03.hea            2008-04-05 18:05  106   header file
 13420_03.hea-           1992-07-30 01:28  124   header file
 13420_03.xws            1999-12-12 17:27   86   WAVEScript
 13420_04.dat            1992-07-30 01:28   15K  digitized signal(s)
 13420_04.hea            2008-04-05 18:05  107   header file
 13420_04.hea-           1992-07-30 01:28  125   header file
 13420_04.xws            1999-12-12 17:27   86   WAVEScript
 13420_05.dat            1992-07-30 01:28   15K  digitized signal(s)
 13420_05.hea            2008-04-05 18:05  108   header file
 13420_05.hea-           1992-07-30 01:28  126   header file
 13420_05.xws            1999-12-12 17:27   86   WAVEScript
 13420_06.dat            1992-07-30 01:28   15K  digitized signal(s)
 13420_06.hea            2008-04-05 18:05  105   header file
 13420_06.hea-           1992-07-30 01:28  123   header file
 13420_06.xws            1999-12-12 17:27   86   WAVEScript
 13420_07.dat            1992-07-30 01:28   15K  digitized signal(s)
 13420_07.hea            2008-04-05 18:05  107   header file
 13420_07.hea-           1992-07-30 01:28  125   header file
 13420_07.xws            1999-12-12 17:27   86   WAVEScript
 13420_08.dat            1992-07-30 01:28   15K  digitized signal(s)
 13420_08.hea            2008-04-05 18:05  105   header file
 13420_08.hea-           1992-07-30 01:28  123   header file
 13420_08.xws            1999-12-12 17:27   86   WAVEScript
 13420_09.dat            1992-07-30 01:28   15K  digitized signal(s)
 13420_09.hea            2008-04-05 18:05  107   header file
 13420_09.hea-           1992-07-30 01:28  125   header file
 13420_09.xws            1999-12-12 17:27   86   WAVEScript
 13420_10.dat            1992-07-30 01:28   15K  digitized signal(s)
 13420_10.hea            2008-04-05 18:05  106   header file
 13420_10.hea-           1992-07-30 01:28  124   header file
 13420_10.xws            1999-12-12 17:27   86   WAVEScript
 13420_11.dat            1992-07-30 01:28   15K  digitized signal(s)
 13420_11.hea            2008-04-05 18:05  108   header file
 13420_11.hea-           1992-07-30 01:28  126   header file
 13420_11.xws            1999-12-12 17:27   86   WAVEScript
 13420_12.dat            1992-07-30 01:28   15K  digitized signal(s)
 13420_12.hea            2008-04-05 18:05  107   header file
 13420_12.hea-           1992-07-30 01:28  125   header file
 13420_12.xws            1999-12-12 17:27   86   WAVEScript
 13425_01.dat            1992-07-30 01:28   15K  digitized signal(s)
 13425_01.hea            2008-04-05 18:05  107   header file
 13425_01.hea-           1992-07-30 01:28  125   header file
 13425_01.xws            1999-12-12 17:27   86   WAVEScript
 13425_02.dat            1992-07-30 01:28   15K  digitized signal(s)
 13425_02.hea            2008-04-05 18:05  105   header file
 13425_02.hea-           1992-07-30 01:28  123   header file
 13425_02.xws            1999-12-12 17:27   86   WAVEScript
 13425_03.dat            1992-07-30 01:28   15K  digitized signal(s)
 13425_03.hea            2008-04-05 18:05  107   header file
 13425_03.hea-           1992-07-30 01:28  125   header file
 13425_03.xws            1999-12-12 17:27   86   WAVEScript
 13425_04.dat            1992-07-30 01:28   15K  digitized signal(s)
 13425_04.hea            2008-04-05 18:05  108   header file
 13425_04.hea-           1992-07-30 01:28  126   header file
 13425_04.xws            1999-12-12 17:27   86   WAVEScript
 13425_05.dat            1992-07-30 01:28   15K  digitized signal(s)
 13425_05.hea            2008-04-05 18:05  106   header file
 13425_05.hea-           1992-07-30 01:28  124   header file
 13425_05.xws            1999-12-12 17:27   86   WAVEScript
 13431_01.dat            1992-07-30 01:28   15K  digitized signal(s)
 13431_01.hea            2008-04-05 18:05  106   header file
 13431_01.hea-           1992-07-30 01:28  124   header file
 13431_01.xws            1999-12-12 17:27   86   WAVEScript
 13431_02.dat            1992-07-30 01:28   15K  digitized signal(s)
 13431_02.hea            2008-04-05 18:05  107   header file
 13431_02.hea-           1992-07-30 01:28  125   header file
 13431_02.xws            1999-12-12 17:27   86   WAVEScript
 13431_03.dat            1992-07-30 01:28   15K  digitized signal(s)
 13431_03.hea            2008-04-05 18:05  108   header file
 13431_03.hea-           1992-07-30 01:28  126   header file
 13431_03.xws            1999-12-12 17:27   86   WAVEScript
 13508_01.dat            1992-07-30 01:28   15K  digitized signal(s)
 13508_01.hea            2008-04-05 18:05  105   header file
 13508_01.hea-           1992-07-30 01:28  123   header file
 13508_01.xws            1999-12-12 17:27   86   WAVEScript
 13508_02.dat            1992-07-30 01:28   15K  digitized signal(s)
 13508_02.hea            2008-04-05 18:05  108   header file
 13508_02.hea-           1992-07-30 01:28  126   header file
 13508_02.xws            1999-12-12 17:27   86   WAVEScript
 13508_03.dat            1992-07-30 01:28   15K  digitized signal(s)
 13508_03.hea            2008-04-05 18:05  107   header file
 13508_03.hea-           1992-07-30 01:28  125   header file
 13508_03.xws            1999-12-12 17:27   86   WAVEScript
 13508_04.dat            1992-07-30 01:28   15K  digitized signal(s)
 13508_04.hea            2008-04-05 18:05  106   header file
 13508_04.hea-           1992-07-30 01:28  124   header file
 13508_04.xws            1999-12-12 17:27   86   WAVEScript
 13508_05.dat            1992-07-30 01:28   15K  digitized signal(s)
 13508_05.hea            2008-04-05 18:05  106   header file
 13508_05.hea-           1992-07-30 01:28  124   header file
 13508_05.xws            1999-12-12 17:27   86   WAVEScript
 13543_01.dat            1992-07-30 01:28   15K  digitized signal(s)
 13543_01.hea            2008-04-05 18:05  106   header file
 13543_01.hea-           1992-07-30 01:28  124   header file
 13543_01.xws            1999-12-12 17:27   86   WAVEScript
 13543_02.dat            1992-07-30 01:28   15K  digitized signal(s)
 13543_02.hea            2008-04-05 18:05  107   header file
 13543_02.hea-           1992-07-30 01:28  125   header file
 13543_02.xws            1999-12-12 17:27   86   WAVEScript
 13543_03.dat            1992-07-30 01:28   15K  digitized signal(s)
 13543_03.hea            2008-04-05 18:05  106   header file
 13543_03.hea-           1992-07-30 01:28  124   header file
 13543_03.xws            1999-12-12 17:27   86   WAVEScript
 13543_04.dat            1992-07-30 01:28   15K  digitized signal(s)
 13543_04.hea            2008-04-05 18:05  110   header file
 13543_04.hea-           1992-07-30 01:28  128   header file
 13543_04.xws            1999-12-12 17:27   86   WAVEScript
 13543_05.dat            1992-07-30 01:28   15K  digitized signal(s)
 13543_05.hea            2008-04-05 18:05  109   header file
 13543_05.hea-           1992-07-30 01:28  127   header file
 13543_05.xws            1999-12-12 17:27   86   WAVEScript
 13543_06.dat            1992-07-30 01:28   15K  digitized signal(s)
 13543_06.hea            2008-04-05 18:05  104   header file
 13543_06.hea-           1992-07-30 01:28  122   header file
 13543_06.xws            1999-12-12 17:27   86   WAVEScript
 13556_01.dat            1992-07-30 01:28   15K  digitized signal(s)
 13556_01.hea            2008-04-05 18:05  107   header file
 13556_01.hea-           1992-07-30 01:28  125   header file
 13556_01.xws            1999-12-12 17:27   86   WAVEScript
 13556_02.dat            1992-07-30 01:28   15K  digitized signal(s)
 13556_02.hea            2008-04-05 18:05  109   header file
 13556_02.hea-           1992-07-30 01:28  127   header file
 13556_02.xws            1999-12-12 17:27   86   WAVEScript
 13556_03.dat            1992-07-30 01:28   15K  digitized signal(s)
 13556_03.hea            2008-04-05 18:05  107   header file
 13556_03.hea-           1992-07-30 01:28  125   header file
 13556_03.xws            1999-12-12 17:27   86   WAVEScript
 13556_04.dat            1992-07-30 01:28   15K  digitized signal(s)
 13556_04.hea            2008-04-05 18:05  105   header file
 13556_04.hea-           1992-07-30 01:28  123   header file
 13556_04.xws            1999-12-12 17:27   86   WAVEScript
 13556_05.dat            1992-07-30 01:28   15K  digitized signal(s)
 13556_05.hea            2008-04-05 18:05  108   header file
 13556_05.hea-           1992-07-30 01:28  126   header file
 13556_05.xws            1999-12-12 17:27   86   WAVEScript
 13556_06.dat            1992-07-30 01:28   15K  digitized signal(s)
 13556_06.hea            2008-04-05 18:05  108   header file
 13556_06.hea-           1992-07-30 01:28  126   header file
 13556_06.xws            1999-12-12 17:27   86   WAVEScript
 13556_07.dat            1992-07-30 01:28   15K  digitized signal(s)
 13556_07.hea            2008-04-05 18:05  107   header file
 13556_07.hea-           1992-07-30 01:28  125   header file
 13556_07.xws            1999-12-12 17:27   86   WAVEScript
 13559_01.dat            1992-07-30 01:28   15K  digitized signal(s)
 13559_01.hea            2008-04-05 18:05  107   header file
 13559_01.hea-           1992-07-30 01:28  125   header file
 13559_01.xws            1999-12-12 17:27   86   WAVEScript
 13580_01.dat            1992-07-30 01:28   15K  digitized signal(s)
 13580_01.hea            2008-04-05 18:05  107   header file
 13580_01.hea-           1992-07-30 01:28  125   header file
 13580_01.xws            1999-12-12 17:27   86   WAVEScript
 13580_02.dat            1992-07-30 01:28   15K  digitized signal(s)
 13580_02.hea            2008-04-05 18:05  106   header file
 13580_02.hea-           1992-07-30 01:28  124   header file
 13580_02.xws            1999-12-12 17:27   86   WAVEScript
 13585_01.dat            1992-07-30 01:28   15K  digitized signal(s)
 13585_01.hea            2008-04-05 18:05  104   header file
 13585_01.hea-           1992-07-30 01:28  122   header file
 13585_01.xws            1999-12-12 17:27   86   WAVEScript
 13585_02.dat            1992-07-30 01:28   15K  digitized signal(s)
 13585_02.hea            2008-04-05 18:05  107   header file
 13585_02.hea-           1992-07-30 01:28  125   header file
 13585_02.xws            1999-12-12 17:27   86   WAVEScript
 13585_03.dat            1992-07-30 01:28   15K  digitized signal(s)
 13585_03.hea            2008-04-05 18:05  108   header file
 13585_03.hea-           1992-07-30 01:28  126   header file
 13585_03.xws            1999-12-12 17:27   86   WAVEScript
 13585_04.dat            1992-07-30 01:28   15K  digitized signal(s)
 13585_04.hea            2008-04-05 18:05  107   header file
 13585_04.hea-           1992-07-30 01:28  125   header file
 13585_04.xws            1999-12-12 17:27   86   WAVEScript
 13585_05.dat            1992-07-30 01:28   15K  digitized signal(s)
 13585_05.hea            2008-04-05 18:05  107   header file
 13585_05.hea-           1992-07-30 01:28  125   header file
 13585_05.xws            1999-12-12 17:27   86   WAVEScript
 13585_06.dat            1992-07-30 01:28   15K  digitized signal(s)
 13585_06.hea            2008-04-05 18:05  104   header file
 13585_06.hea-           1992-07-30 01:28  122   header file
 13585_06.xws            1999-12-12 17:27   86   WAVEScript
 13585_07.dat            1992-07-30 01:28   15K  digitized signal(s)
 13585_07.hea            2008-04-05 18:05  106   header file
 13585_07.hea-           1992-07-30 01:28  124   header file
 13585_07.xws            1999-12-12 17:27   86   WAVEScript
 13585_08.dat            1992-07-30 01:28   15K  digitized signal(s)
 13585_08.hea            2008-04-05 18:05  109   header file
 13585_08.hea-           1992-07-30 01:28  127   header file
 13585_08.xws            1999-12-12 17:27   86   WAVEScript
 13590_01.dat            1992-07-30 01:28   15K  digitized signal(s)
 13590_01.hea            2008-04-05 18:05  108   header file
 13590_01.hea-           1992-07-30 01:28  126   header file
 13590_01.xws            1999-12-12 17:27   86   WAVEScript
 13590_02.dat            1992-07-30 01:28   15K  digitized signal(s)
 13590_02.hea            2008-04-05 18:05  106   header file
 13590_02.hea-           1992-07-30 01:28  124   header file
 13590_02.xws            1999-12-12 17:27   86   WAVEScript
 13590_03.dat            1992-07-30 01:28   15K  digitized signal(s)
 13590_03.hea            2008-04-05 18:05  106   header file
 13590_03.hea-           1992-07-30 01:28  124   header file
 13590_03.xws            1999-12-12 17:27   86   WAVEScript
 13590_04.dat            1992-07-30 01:28   15K  digitized signal(s)
 13590_04.hea            2008-04-05 18:05  107   header file
 13590_04.hea-           1992-07-30 01:28  125   header file
 13590_04.xws            1999-12-12 17:27   86   WAVEScript
 13590_05.dat            1992-07-30 01:28   15K  digitized signal(s)
 13590_05.hea            2008-04-05 18:05  107   header file
 13590_05.hea-           1992-07-30 01:28  125   header file
 13590_05.xws            1999-12-12 17:27   86   WAVEScript
 13590_06.dat            1992-07-30 01:28   15K  digitized signal(s)
 13590_06.hea            2008-04-05 18:05  107   header file
 13590_06.hea-           1992-07-30 01:28  125   header file
 13590_06.xws            1999-12-12 17:27   86   WAVEScript
 13649_01.dat            1992-07-30 01:28   15K  digitized signal(s)
 13649_01.hea            2008-04-05 18:05  107   header file
 13649_01.hea-           1992-07-30 01:28  125   header file
 13649_01.xws            1999-12-12 17:27   86   WAVEScript
 13649_02.dat            1992-07-30 01:28   15K  digitized signal(s)
 13649_02.hea            2008-04-05 18:05  107   header file
 13649_02.hea-           1992-07-30 01:28  125   header file
 13649_02.xws            1999-12-12 17:27   86   WAVEScript
 13649_03.dat            1992-07-30 01:28   15K  digitized signal(s)
 13649_03.hea            2008-04-05 18:05  105   header file
 13649_03.hea-           1992-07-30 01:28  123   header file
 13649_03.xws            1999-12-12 17:27   86   WAVEScript
 13649_04.dat            1992-07-30 01:28   15K  digitized signal(s)
 13649_04.hea            2008-04-05 18:05  104   header file
 13649_04.hea-           1992-07-30 01:28  122   header file
 13649_04.xws            1999-12-12 17:27   86   WAVEScript
 13687_01.dat            1992-07-30 01:28   15K  digitized signal(s)
 13687_01.hea            2008-04-05 18:05  106   header file
 13687_01.hea-           1992-07-30 01:28  124   header file
 13687_01.xws            1999-12-12 17:27   86   WAVEScript
 13687_02.dat            1992-07-30 01:28   15K  digitized signal(s)
 13687_02.hea            2008-04-05 18:05  108   header file
 13687_02.hea-           1992-07-30 01:28  126   header file
 13687_02.xws            1999-12-12 17:27   86   WAVEScript
 13687_03.dat            1992-07-30 01:28   15K  digitized signal(s)
 13687_03.hea            2008-04-05 18:05  107   header file
 13687_03.hea-           1992-07-30 01:28  125   header file
 13687_03.xws            1999-12-12 17:27   86   WAVEScript
 13687_04.dat            1992-07-30 01:28   15K  digitized signal(s)
 13687_04.hea            2008-04-05 18:05  107   header file
 13687_04.hea-           1992-07-30 01:28  125   header file
 13687_04.xws            1999-12-12 17:27   86   WAVEScript
 ANNOTATORS              2000-10-13 22:45   17   list of annotators
 DOI                     2015-09-21 13:00   19   
 MD5SUMS                 2005-07-12 21:43   23K  
 RECORDS                 2000-03-29 10:02  1.5K  list of record names
 SHA1SUMS                2005-07-12 21:43   27K  
 SHA256SUMS              2007-09-18 12:37   39K  


---