When referencing this material, please include the standard citation for PhysioNet:
Goldberger AL, Amaral LAN, Glass L, Hausdorff JM, Ivanov PCh, Mark RG, Mietus JE, Moody GB, Peng C-K, Stanley HE. PhysioBank, PhysioToolkit, and PhysioNet: Components of a New Research Resource for Complex Physiologic Signals.
Circulation
101
(23):e215-e220 [Circulation Electronic Pages;
http://circ.ahajournals.org/content/101/23/e215.full
]; 2000 (June 13).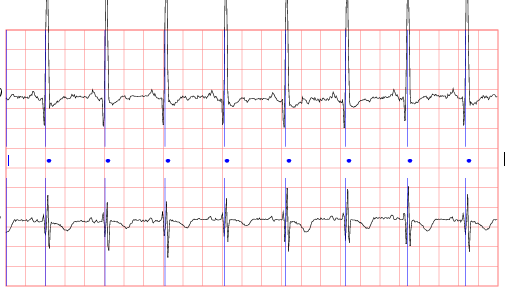 This database includes 18 long-term ECG recordings of subjects referred to the Arrhythmia Laboratory at Boston's Beth Israel Hospital (now the Beth Israel Deaconess Medical Center). Subjects included in this database were found to have had no significant arrhythmias; they include 5 men, aged 26 to 45, and 13 women, aged 20 to 50.
 Name                    Last modified      Size  Description

---

 Parent Directory                             -   
 16265.atr               1991-05-09 02:49  297K  reference annotations
 16265.dat               1997-06-15 21:07   34M  digitized signal(s)
 16265.hea               2012-02-14 18:26  118   header file
 16265.hea-              1997-06-16 03:24  108   header file
 16265.xws               1999-12-12 17:28   90   WAVEScript
 16272.atr               1990-05-07 02:10  262K  reference annotations
 16272.dat               1997-06-15 21:20   33M  digitized signal(s)
 16272.hea               2012-02-14 18:26  116   header file
 16272.hea-              1997-06-16 03:27  106   header file
 16272.xws               1999-12-12 17:28   90   WAVEScript
 16273.atr               2000-11-07 12:59  245K  reference annotations
 16273.atr-              1991-05-08 08:15  245K  reference annotations
 16273.dat               1997-06-16 00:19   32M  digitized signal(s)
 16273.hea               2012-02-14 18:26  117   header file
 16273.hea-              2003-02-12 13:47  107   header file
 16273.hea--             1997-06-16 03:29  107   header file
 16273.xws               1999-12-12 17:28   90   WAVEScript
 16420.atr               1991-05-08 06:39  307K  reference annotations
 16420.dat               1997-06-16 00:23   32M  digitized signal(s)
 16420.hea               2012-02-14 18:26  116   header file
 16420.hea-              1997-06-16 03:32  106   header file
 16420.xws               1999-12-12 17:28   90   WAVEScript
 16483.atr               1991-05-07 07:41  251K  reference annotations
 16483.dat               1997-06-16 00:26   34M  digitized signal(s)
 16483.hea               2012-02-14 18:26  117   header file
 16483.hea-              1997-06-16 03:32  107   header file
 16483.xws               1999-12-12 17:28   90   WAVEScript
 16539.atr               2000-11-07 12:53  268K  reference annotations
 16539.atr-              1990-04-17 04:18  268K  reference annotations
 16539.dat               1997-06-16 03:18   32M  digitized signal(s)
 16539.hea               2012-02-14 18:26  117   header file
 16539.hea-              1997-06-16 03:34  107   header file
 16539.xws               1999-12-12 17:28   90   WAVEScript
 16773.atr               2003-02-14 10:17  451K  reference annotations
 16773.atr-              1991-05-09 01:52  451K  reference annotations
 16773.dat               1997-06-16 03:21   32M  digitized signal(s)
 16773.hea               2012-02-14 18:26  118   header file
 16773.hea-              1997-06-16 03:36  108   header file
 16773.xws               1999-12-12 17:28   90   WAVEScript
 16786.atr               1991-05-09 07:38  202K  reference annotations
 16786.dat               1997-06-16 03:25   32M  digitized signal(s)
 16786.hea               2012-02-14 18:26  115   header file
 16786.hea-              1997-06-16 03:38  105   header file
 16786.xws               1999-12-12 17:28   90   WAVEScript
 16795.atr               1991-05-06 05:35  252K  reference annotations
 16795.dat               1997-06-16 03:30   31M  digitized signal(s)
 16795.hea               2012-02-14 18:26  114   header file
 16795.hea-              1997-06-16 03:44  104   header file
 16795.xws               1999-12-12 17:28   90   WAVEScript
 17052.atr               1991-05-09 05:25  213K  reference annotations
 17052.dat               1997-06-16 03:33   30M  digitized signal(s)
 17052.hea               2012-02-14 18:25  117   header file
 17052.hea-              1997-06-16 03:45  107   header file
 17052.xws               1999-12-12 17:28   90   WAVEScript
 17453.atr               1991-05-08 02:43  255K  reference annotations
 17453.dat               1997-06-16 03:38   32M  digitized signal(s)
 17453.hea               2012-02-14 18:25  116   header file
 17453.hea-              1997-06-16 03:46  106   header file
 17453.xws               1999-12-12 17:28   90   WAVEScript
 18177.atr               1995-10-05 05:16  404K  reference annotations
 18177.dat               1997-06-16 04:05   34M  digitized signal(s)
 18177.hea               2012-02-14 18:25  117   header file
 18177.hea-              1997-06-16 04:06  107   header file
 18177.xws               1999-12-12 17:28   90   WAVEScript
 18184.atr               1995-10-05 06:34  227K  reference annotations
 18184.dat               1997-06-16 04:09   31M  digitized signal(s)
 18184.hea               2012-02-14 18:25  116   header file
 18184.hea-              1997-06-16 04:11  106   header file
 18184.xws               1999-12-12 17:28   90   WAVEScript
 19088.atr               1995-10-05 07:37  382K  reference annotations
 19088.dat               1997-06-16 04:15   31M  digitized signal(s)
 19088.hea               2012-02-14 18:25  116   header file
 19088.hea-              1997-06-16 04:30  106   header file
 19088.xws               1999-12-12 17:28   90   WAVEScript
 19090.atr               1995-10-09 02:36  238K  reference annotations
 19090.dat               1997-06-16 04:26   32M  digitized signal(s)
 19090.hea               2012-02-14 18:25  116   header file
 19090.hea-              1997-06-16 04:33  106   header file
 19090.xws               1999-12-12 17:28   90   WAVEScript
 19093.atr               1995-10-09 03:35  231K  reference annotations
 19093.dat               1997-06-16 04:29   31M  digitized signal(s)
 19093.hea               2012-02-14 18:25  117   header file
 19093.hea-              1997-06-16 04:34  107   header file
 19093.xws               1999-12-12 17:28   90   WAVEScript
 19140.atr               1995-10-09 04:35  254K  reference annotations
 19140.dat               1997-06-16 04:34   32M  digitized signal(s)
 19140.hea               2012-02-14 18:25  116   header file
 19140.hea-              1997-06-16 04:37  106   header file
 19140.xws               1999-12-12 17:28   90   WAVEScript
 19830.atr               1995-10-09 05:07  342K  reference annotations
 19830.dat               1997-06-16 04:38   31M  digitized signal(s)
 19830.hea               2012-02-14 18:25  117   header file
 19830.hea-              1997-06-16 04:39  107   header file
 19830.xws               1999-12-12 17:28   90   WAVEScript
 ANNOTATORS              2000-10-13 22:34   50   list of annotators
 DOI                     2015-09-21 13:00   19   
 MD5SUMS                 2005-07-13 01:07  3.4K  
 RECORDS                 2000-03-29 10:12  108   list of record names
 SHA1SUMS                2005-07-13 01:16  4.1K  
 SHA256SUMS              2007-09-18 12:39  6.0K  


---