This database is described in
Greenwald SD. Improved detection and classification of arrhythmias in noise-corrupted electrocardiograms using contextual information. Ph.D. thesis, Harvard-MIT Division of Health Sciences and Technology, 1990.
Please cite this publication when referencing this material, and also include the standard citation for PhysioNet:
Goldberger AL, Amaral LAN, Glass L, Hausdorff JM, Ivanov PCh, Mark RG, Mietus JE, Moody GB, Peng C-K, Stanley HE. PhysioBank, PhysioToolkit, and PhysioNet: Components of a New Research Resource for Complex Physiologic Signals.
Circulation
101
(23):e215-e220 [Circulation Electronic Pages;
http://circ.ahajournals.org/content/101/23/e215.full
]; 2000 (June 13).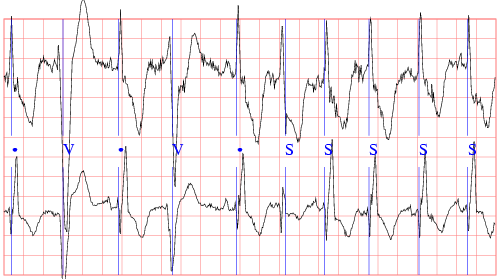 This database includes 78 half-hour ECG recordings chosen to supplement the examples of supraventricular arrhythmias in the MIT-BIH Arrhythmia Database.
 Name                    Last modified      Size  Description

---

 Parent Directory                             -   
 800.atr                 1992-08-09 14:25  3.8K  reference annotations
 800.dat                 1992-08-09 18:10  675K  digitized signal(s)
 800.hea                 2012-02-14 18:48   98   header file
 800.hea-                1992-08-09 18:10  130   header file
 800.xws                 1999-12-12 17:32   88   WAVEScript
 801.atr                 2010-06-04 13:16  5.1K  reference annotations
 801.atr-                1992-08-09 18:10  5.1K  reference annotations
 801.dat                 1992-08-09 18:10  675K  digitized signal(s)
 801.hea                 2012-02-14 18:48   96   header file
 801.hea-                1992-08-09 18:10  128   header file
 801.xws                 1999-12-12 17:32   88   WAVEScript
 802.atr                 1992-08-09 18:10  3.3K  reference annotations
 802.dat                 1992-08-09 18:10  675K  digitized signal(s)
 802.hea                 2012-02-14 18:48   93   header file
 802.hea-                1992-08-09 18:10  125   header file
 802.xws                 1999-12-12 17:32   88   WAVEScript
 803.atr                 1992-08-09 18:11  4.1K  reference annotations
 803.dat                 1992-08-09 18:11  675K  digitized signal(s)
 803.hea                 2012-02-14 18:48   96   header file
 803.hea-                1992-08-09 18:11  128   header file
 803.xws                 1999-12-12 17:32   88   WAVEScript
 804.atr                 2010-06-22 13:08  5.7K  reference annotations
 804.atr-                1992-08-09 18:11  5.7K  reference annotations
 804.dat                 1992-08-09 18:11  675K  digitized signal(s)
 804.hea                 2012-02-14 18:48   92   header file
 804.hea-                1992-08-09 18:11  124   header file
 804.xws                 1999-12-12 17:32   88   WAVEScript
 805.atr                 1992-08-09 18:11  5.4K  reference annotations
 805.dat                 1992-08-09 18:11  675K  digitized signal(s)
 805.hea                 2012-02-14 18:48   94   header file
 805.hea-                1992-08-09 18:11  126   header file
 805.xws                 1999-12-12 17:32   88   WAVEScript
 806.atr                 1992-08-09 18:11  5.9K  reference annotations
 806.dat                 1992-08-09 18:11  675K  digitized signal(s)
 806.hea                 2012-02-14 18:48   94   header file
 806.hea-                1992-08-09 18:11  126   header file
 806.xws                 1999-12-12 17:32   88   WAVEScript
 807.atr                 1992-08-09 18:11  3.8K  reference annotations
 807.dat                 1992-08-09 18:11  675K  digitized signal(s)
 807.hea                 2012-02-14 18:47   94   header file
 807.hea-                1992-08-09 18:11  126   header file
 807.xws                 1999-12-12 17:32   88   WAVEScript
 808.atr                 1992-08-09 18:11  3.5K  reference annotations
 808.dat                 1992-08-09 18:11  675K  digitized signal(s)
 808.hea                 2012-02-14 18:47   97   header file
 808.hea-                1992-08-09 18:11  129   header file
 808.xws                 1999-12-12 17:32   88   WAVEScript
 809.atr                 1992-08-09 18:12  5.1K  reference annotations
 809.dat                 1992-08-09 18:12  675K  digitized signal(s)
 809.hea                 2012-02-14 18:47   95   header file
 809.hea-                1992-08-09 18:12  127   header file
 809.xws                 1999-12-12 17:32   88   WAVEScript
 810.atr                 1992-08-09 18:12  4.1K  reference annotations
 810.dat                 1992-08-09 18:12  675K  digitized signal(s)
 810.hea                 2012-02-14 18:47   99   header file
 810.hea-                1992-08-09 18:12  131   header file
 810.xws                 1999-12-12 17:32   88   WAVEScript
 811.atr                 1992-08-09 18:12  2.8K  reference annotations
 811.dat                 1992-08-09 18:12  675K  digitized signal(s)
 811.hea                 2012-02-14 18:47   96   header file
 811.hea-                1992-08-09 18:12  128   header file
 811.xws                 1999-12-12 17:32   88   WAVEScript
 812.atr                 1992-08-09 18:12  3.7K  reference annotations
 812.dat                 1992-08-09 18:12  675K  digitized signal(s)
 812.hea                 2012-02-14 18:47   92   header file
 812.hea-                1992-08-09 18:12  124   header file
 812.xws                 1999-12-12 17:32   88   WAVEScript
 820.atr                 1992-08-09 18:12  4.6K  reference annotations
 820.dat                 1992-08-09 18:12  675K  digitized signal(s)
 820.hea                 2012-02-14 18:47   90   header file
 820.hea-                1992-08-09 18:12  122   header file
 820.xws                 1999-12-12 17:32   88   WAVEScript
 821.atr                 1992-08-09 18:12  6.1K  reference annotations
 821.dat                 1992-08-09 18:12  675K  digitized signal(s)
 821.hea                 2012-02-14 18:47   92   header file
 821.hea-                1992-08-09 18:12  124   header file
 821.xws                 1999-12-12 17:32   88   WAVEScript
 822.atr                 2010-06-04 13:47  4.6K  reference annotations
 822.atr-                1992-08-09 18:13  4.6K  reference annotations
 822.dat                 1992-08-09 18:13  675K  digitized signal(s)
 822.hea                 2012-02-14 18:47   93   header file
 822.hea-                1992-08-09 18:13  125   header file
 822.xws                 1999-12-12 17:32   88   WAVEScript
 823.atr                 2010-06-22 13:10  5.6K  reference annotations
 823.atr-                1992-08-09 18:13  5.6K  reference annotations
 823.dat                 1992-08-09 18:13  675K  digitized signal(s)
 823.hea                 2012-02-14 18:47   92   header file
 823.hea-                1992-08-09 18:13  124   header file
 823.xws                 1999-12-12 17:32   88   WAVEScript
 824.atr                 1992-08-09 18:36  4.7K  reference annotations
 824.dat                 1992-08-09 18:13  675K  digitized signal(s)
 824.hea                 2012-02-14 18:47   97   header file
 824.hea-                1992-08-09 18:13  129   header file
 824.xws                 1999-12-12 17:32   88   WAVEScript
 825.atr                 1992-08-09 18:37  5.5K  reference annotations
 825.dat                 1992-08-09 18:13  675K  digitized signal(s)
 825.hea                 2012-02-14 18:46   95   header file
 825.hea-                1992-08-09 18:13  127   header file
 825.xws                 1999-12-12 17:32   88   WAVEScript
 826.atr                 1992-08-09 18:39  5.2K  reference annotations
 826.dat                 1992-08-09 18:13  675K  digitized signal(s)
 826.hea                 2012-02-14 18:46   95   header file
 826.hea-                1992-08-09 18:13  127   header file
 826.xws                 1999-12-12 17:32   88   WAVEScript
 827.atr                 1992-08-09 18:14  3.6K  reference annotations
 827.dat                 1992-08-09 18:14  675K  digitized signal(s)
 827.hea                 2012-02-14 18:46   91   header file
 827.hea-                1992-08-09 18:14  123   header file
 827.xws                 1999-12-12 17:32   88   WAVEScript
 828.atr                 2010-06-22 13:59  3.7K  reference annotations
 828.atr-                1992-08-09 18:41  3.7K  reference annotations
 828.dat                 1992-08-09 18:14  675K  digitized signal(s)
 828.hea                 2012-02-14 18:46   93   header file
 828.hea-                1992-08-09 18:14  125   header file
 828.xws                 1999-12-12 17:32   88   WAVEScript
 829.atr                 2010-06-23 11:44  3.8K  reference annotations
 829.atr-                1992-08-09 18:14  3.8K  reference annotations
 829.dat                 1992-08-09 18:14  675K  digitized signal(s)
 829.hea                 2012-02-14 18:46   95   header file
 829.hea-                1992-08-09 18:14  127   header file
 829.xws                 1999-12-12 17:32   88   WAVEScript
 840.atr                 1992-08-09 18:14  4.7K  reference annotations
 840.dat                 1992-08-09 18:14  675K  digitized signal(s)
 840.hea                 2012-02-14 18:46   95   header file
 840.hea-                1992-08-09 18:14  127   header file
 840.xws                 1999-12-12 17:32   88   WAVEScript
 841.atr                 2010-06-22 13:59  3.6K  reference annotations
 841.atr-                1992-08-09 18:43  3.6K  reference annotations
 841.dat                 1992-08-09 18:14  675K  digitized signal(s)
 841.hea                 2012-02-14 18:46   96   header file
 841.hea-                1992-08-09 18:14  128   header file
 841.xws                 1999-12-12 17:32   88   WAVEScript
 842.atr                 1992-08-09 18:44  5.0K  reference annotations
 842.dat                 1992-08-09 18:14  675K  digitized signal(s)
 842.hea                 2012-02-14 18:46   96   header file
 842.hea-                1992-08-09 18:14  128   header file
 842.xws                 1999-12-12 17:32   88   WAVEScript
 843.atr                 1992-08-09 18:45  5.3K  reference annotations
 843.dat                 1992-08-09 18:15  675K  digitized signal(s)
 843.hea                 2012-02-14 18:45   95   header file
 843.hea-                1992-08-09 18:15  127   header file
 843.xws                 1999-12-12 17:32   88   WAVEScript
 844.atr                 1992-08-09 18:15  3.3K  reference annotations
 844.dat                 1992-08-09 18:15  675K  digitized signal(s)
 844.hea                 2012-02-14 18:45   93   header file
 844.hea-                1992-08-09 18:15  125   header file
 844.xws                 1999-12-12 17:32   88   WAVEScript
 845.atr                 1992-08-09 18:47  5.6K  reference annotations
 845.dat                 1992-08-09 18:15  675K  digitized signal(s)
 845.hea                 2012-02-14 18:45   94   header file
 845.hea-                1992-08-09 18:15  126   header file
 845.xws                 1999-12-12 17:32   88   WAVEScript
 846.atr                 1992-08-09 18:48  3.3K  reference annotations
 846.dat                 1992-08-09 18:15  675K  digitized signal(s)
 846.hea                 2012-02-14 18:45   97   header file
 846.hea-                1992-08-09 18:15  129   header file
 846.xws                 1999-12-12 17:32   88   WAVEScript
 847.atr                 2010-06-22 14:01  3.8K  reference annotations
 847.atr-                1992-08-09 18:15  3.8K  reference annotations
 847.dat                 1992-08-09 18:15  675K  digitized signal(s)
 847.hea                 2012-02-14 18:45   93   header file
 847.hea-                1992-08-09 18:15  125   header file
 847.xws                 1999-12-12 17:32   88   WAVEScript
 848.atr                 2010-06-22 14:02  8.4K  reference annotations
 848.atr-                1992-08-09 18:15  8.4K  reference annotations
 848.dat                 1992-08-09 18:15  675K  digitized signal(s)
 848.hea                 2012-02-14 18:45   93   header file
 848.hea-                1992-08-09 18:15  125   header file
 848.xws                 1999-12-12 17:32   88   WAVEScript
 849.atr                 1992-08-09 18:52  4.2K  reference annotations
 849.dat                 1992-08-09 18:15  675K  digitized signal(s)
 849.hea                 2012-02-14 18:45   95   header file
 849.hea-                1992-08-09 18:15  127   header file
 849.xws                 1999-12-12 17:32   88   WAVEScript
 850.atr                 1992-08-09 18:16  3.6K  reference annotations
 850.dat                 1992-08-09 18:16  675K  digitized signal(s)
 850.hea                 2012-02-14 18:45   93   header file
 850.hea-                1992-08-09 18:16  125   header file
 850.xws                 1999-12-12 17:32   88   WAVEScript
 851.atr                 1992-08-09 18:16  5.9K  reference annotations
 851.dat                 1992-08-09 18:16  675K  digitized signal(s)
 851.hea                 2012-02-14 18:45   93   header file
 851.hea-                1992-08-09 18:16  125   header file
 851.xws                 1999-12-12 17:32   88   WAVEScript
 852.atr                 2010-06-22 14:06  5.2K  reference annotations
 852.atr-                1992-08-09 20:20  5.2K  reference annotations
 852.dat                 1992-08-09 18:16  675K  digitized signal(s)
 852.hea                 2012-02-14 18:45   94   header file
 852.hea-                1992-08-09 18:16  126   header file
 852.xws                 1999-12-12 17:32   88   WAVEScript
 853.atr                 1992-08-09 18:54  4.4K  reference annotations
 853.dat                 1992-08-09 18:16  675K  digitized signal(s)
 853.hea                 2012-02-14 18:44   91   header file
 853.hea-                1992-08-09 18:16  123   header file
 853.xws                 1999-12-12 17:32   88   WAVEScript
 854.atr                 2010-06-22 14:06  7.3K  reference annotations
 854.atr-                1992-08-09 18:16  7.3K  reference annotations
 854.dat                 1992-08-09 18:16  675K  digitized signal(s)
 854.hea                 2012-02-14 18:44   95   header file
 854.hea-                1992-08-09 18:16  127   header file
 854.xws                 1999-12-12 17:32   88   WAVEScript
 855.atr                 1992-08-09 18:16  5.1K  reference annotations
 855.dat                 1992-08-09 18:16  675K  digitized signal(s)
 855.hea                 2012-02-14 18:44   91   header file
 855.hea-                1992-08-09 18:16  123   header file
 855.xws                 1999-12-12 17:32   88   WAVEScript
 856.atr                 2010-06-22 14:07  5.7K  reference annotations
 856.atr-                1992-08-09 18:17  5.7K  reference annotations
 856.dat                 1992-08-09 18:17  675K  digitized signal(s)
 856.hea                 2012-02-14 18:44   91   header file
 856.hea-                1992-08-09 18:17  123   header file
 856.xws                 1999-12-12 17:32   88   WAVEScript
 857.atr                 1992-08-09 18:17  5.1K  reference annotations
 857.dat                 1992-08-09 18:17  675K  digitized signal(s)
 857.hea                 2012-02-14 18:44   91   header file
 857.hea-                1992-08-09 18:17  123   header file
 857.xws                 1999-12-12 17:32   88   WAVEScript
 858.atr                 1992-08-09 18:17  4.3K  reference annotations
 858.dat                 1992-08-09 18:17  675K  digitized signal(s)
 858.hea                 2012-02-14 18:44   89   header file
 858.hea-                1992-08-09 18:17  121   header file
 858.xws                 1999-12-12 17:32   88   WAVEScript
 859.atr                 1992-08-09 18:17  7.0K  reference annotations
 859.dat                 1992-08-09 18:17  675K  digitized signal(s)
 859.hea                 2012-02-14 18:44   92   header file
 859.hea-                1992-08-09 18:17  124   header file
 859.xws                 1999-12-12 17:32   88   WAVEScript
 860.atr                 1992-08-09 18:17  5.0K  reference annotations
 860.dat                 1992-08-09 18:17  675K  digitized signal(s)
 860.hea                 2012-02-14 18:44   92   header file
 860.hea-                1992-08-09 18:17  124   header file
 860.xws                 1999-12-12 17:32   88   WAVEScript
 861.atr                 1992-08-09 18:17  5.5K  reference annotations
 861.dat                 1992-08-09 18:17  675K  digitized signal(s)
 861.hea                 2012-02-14 18:44   90   header file
 861.hea-                1992-08-09 18:17  122   header file
 861.xws                 1999-12-12 17:32   88   WAVEScript
 862.atr                 2010-06-22 14:11  8.1K  reference annotations
 862.atr-                1992-08-09 18:18  8.1K  reference annotations
 862.dat                 1992-08-09 18:18  675K  digitized signal(s)
 862.hea                 2012-02-14 18:44   89   header file
 862.hea-                1992-08-09 18:18  121   header file
 862.xws                 1999-12-12 17:32   88   WAVEScript
 863.atr                 2010-06-22 14:11  6.1K  reference annotations
 863.atr-                1992-08-09 18:18  6.1K  reference annotations
 863.dat                 1992-08-09 18:18  675K  digitized signal(s)
 863.hea                 2012-02-14 18:44   92   header file
 863.hea-                1992-08-09 18:18  124   header file
 863.xws                 1999-12-12 17:32   88   WAVEScript
 864.atr                 2010-06-22 14:14  3.7K  reference annotations
 864.atr-                1992-08-09 18:18  3.7K  reference annotations
 864.dat                 1992-08-09 18:18  675K  digitized signal(s)
 864.hea                 2012-02-14 18:44   89   header file
 864.hea-                1992-08-09 18:18  121   header file
 864.xws                 1999-12-12 17:32   88   WAVEScript
 865.atr                 2010-06-22 14:16   11K  reference annotations
 865.atr-                1992-08-09 18:18   11K  reference annotations
 865.dat                 1992-08-09 18:18  675K  digitized signal(s)
 865.hea                 2012-02-14 18:43   93   header file
 865.hea-                1992-08-09 18:18  125   header file
 865.xws                 1999-12-12 17:32   88   WAVEScript
 866.atr                 1992-08-09 18:57  5.2K  reference annotations
 866.dat                 1992-08-09 18:18  675K  digitized signal(s)
 866.hea                 2012-02-14 18:43   97   header file
 866.hea-                1992-08-09 18:18  129   header file
 866.xws                 1999-12-12 17:32   88   WAVEScript
 867.atr                 1992-08-09 18:59  5.9K  reference annotations
 867.dat                 1992-08-09 18:18  675K  digitized signal(s)
 867.hea                 2012-02-14 18:43   94   header file
 867.hea-                1992-08-09 18:18  126   header file
 867.xws                 1999-12-12 17:32   88   WAVEScript
 868.atr                 2010-06-22 14:24  6.9K  reference annotations
 868.atr-                1992-08-09 18:18  6.9K  reference annotations
 868.dat                 1992-08-09 18:18  675K  digitized signal(s)
 868.hea                 2012-02-14 18:43   93   header file
 868.hea-                1992-08-09 18:18  125   header file
 868.xws                 1999-12-12 17:32   88   WAVEScript
 869.atr                 1992-08-09 18:19  4.2K  reference annotations
 869.dat                 1992-08-09 18:19  675K  digitized signal(s)
 869.hea                 2012-02-14 18:43   88   header file
 869.hea-                1992-08-09 18:19  120   header file
 869.xws                 1999-12-12 17:32   88   WAVEScript
 870.atr                 2010-06-22 14:25  5.8K  reference annotations
 870.atr-                1992-08-09 18:19  5.8K  reference annotations
 870.dat                 1992-08-09 18:19  675K  digitized signal(s)
 870.hea                 2012-02-14 18:43   95   header file
 870.hea-                1992-08-09 18:19  127   header file
 870.xws                 1999-12-12 17:32   88   WAVEScript
 871.atr                 1992-08-09 18:19  3.5K  reference annotations
 871.dat                 1992-08-09 18:19  675K  digitized signal(s)
 871.hea                 2012-02-14 18:43   95   header file
 871.hea-                1992-08-09 18:19  127   header file
 871.xws                 1999-12-12 17:32   88   WAVEScript
 872.atr                 1992-08-09 18:19  3.9K  reference annotations
 872.dat                 1992-08-09 18:19  675K  digitized signal(s)
 872.hea                 2012-02-14 18:43   98   header file
 872.hea-                1992-08-09 18:19  130   header file
 872.xws                 1999-12-12 17:32   88   WAVEScript
 873.atr                 1992-08-09 18:19  3.3K  reference annotations
 873.dat                 1992-08-09 18:19  675K  digitized signal(s)
 873.hea                 2012-02-14 18:43   94   header file
 873.hea-                1992-08-09 18:19  126   header file
 873.xws                 1999-12-12 17:32   88   WAVEScript
 874.atr                 1992-08-09 19:42  4.4K  reference annotations
 874.dat                 1992-08-09 18:19  675K  digitized signal(s)
 874.hea                 2012-02-14 18:43   95   header file
 874.hea-                1992-08-09 18:19  127   header file
 874.xws                 1999-12-12 17:32   88   WAVEScript
 875.atr                 1992-08-09 18:20  4.0K  reference annotations
 875.dat                 1992-08-09 18:20  675K  digitized signal(s)
 875.hea                 2012-02-14 18:43   95   header file
 875.hea-                1992-08-09 18:20  127   header file
 875.xws                 1999-12-12 17:32   88   WAVEScript
 876.atr                 2010-06-23 11:46  4.2K  reference annotations
 876.atr-                1992-08-09 19:02  4.2K  reference annotations
 876.dat                 1992-08-09 18:20  675K  digitized signal(s)
 876.hea                 2012-02-14 18:42   97   header file
 876.hea-                1992-08-09 18:20  129   header file
 876.xws                 1999-12-12 17:32   88   WAVEScript
 877.atr                 2010-06-22 15:03  4.0K  reference annotations
 877.atr-                1992-08-09 19:03  3.6K  reference annotations
 877.dat                 1992-08-09 18:20  675K  digitized signal(s)
 877.hea                 2012-02-14 18:42   96   header file
 877.hea-                1992-08-09 18:20  128   header file
 877.xws                 1999-12-12 17:32   88   WAVEScript
 878.atr                 1992-08-09 18:20  3.8K  reference annotations
 878.dat                 1992-08-09 18:20  675K  digitized signal(s)
 878.hea                 2012-02-14 18:42   93   header file
 878.hea-                1992-08-09 18:20  125   header file
 878.xws                 1999-12-12 17:32   88   WAVEScript
 879.atr                 1992-08-09 18:20  4.1K  reference annotations
 879.dat                 1992-08-09 18:20  675K  digitized signal(s)
 879.hea                 2012-02-14 18:42   94   header file
 879.hea-                1992-08-09 18:20  126   header file
 879.xws                 1999-12-12 17:32   88   WAVEScript
 880.atr                 2009-07-27 13:40  6.8K  reference annotations
 880.atr-                1992-08-09 18:21  6.8K  reference annotations
 880.dat                 1992-08-09 18:21  675K  digitized signal(s)
 880.hea                 2012-02-14 18:42   90   header file
 880.hea-                1992-08-09 18:21  122   header file
 880.xws                 1999-12-12 17:32   88   WAVEScript
 881.atr                 1992-08-09 18:21  4.6K  reference annotations
 881.dat                 1992-08-09 18:21  675K  digitized signal(s)
 881.hea                 2012-02-14 18:42   93   header file
 881.hea-                1992-08-09 18:21  125   header file
 881.xws                 1999-12-12 17:32   88   WAVEScript
 882.atr                 1992-08-09 18:21  3.8K  reference annotations
 882.dat                 1992-08-09 18:21  675K  digitized signal(s)
 882.hea                 2012-02-14 18:42   91   header file
 882.hea-                1992-08-09 18:21  123   header file
 882.xws                 1999-12-12 17:32   88   WAVEScript
 883.atr                 1992-08-09 18:21  3.6K  reference annotations
 883.dat                 1992-08-09 18:21  675K  digitized signal(s)
 883.hea                 2012-02-14 18:42   90   header file
 883.hea-                1992-08-09 18:21  122   header file
 883.xws                 1999-12-12 17:32   88   WAVEScript
 884.atr                 1992-08-09 18:21  6.4K  reference annotations
 884.dat                 1992-08-09 18:21  675K  digitized signal(s)
 884.hea                 2012-02-14 18:42   92   header file
 884.hea-                1992-08-09 18:21  124   header file
 884.xws                 1999-12-12 17:32   88   WAVEScript
 885.atr                 2010-06-22 14:31  4.2K  reference annotations
 885.atr-                1992-08-09 18:21  4.2K  reference annotations
 885.dat                 1992-08-09 18:21  675K  digitized signal(s)
 885.hea                 2012-02-14 18:42   92   header file
 885.hea-                1992-08-09 18:21  124   header file
 885.xws                 1999-12-12 17:32   88   WAVEScript
 886.atr                 1992-08-09 18:22  4.3K  reference annotations
 886.dat                 1992-08-09 18:22  675K  digitized signal(s)
 886.hea                 2012-02-14 18:42   96   header file
 886.hea-                1992-08-09 18:22  128   header file
 886.xws                 1999-12-12 17:32   88   WAVEScript
 887.atr                 2010-06-22 14:32  5.8K  reference annotations
 887.atr-                1992-08-09 18:22  5.8K  reference annotations
 887.dat                 1992-08-09 18:22  675K  digitized signal(s)
 887.hea                 2012-02-14 18:42   92   header file
 887.hea-                1992-08-09 18:22  124   header file
 887.xws                 1999-12-12 17:32   88   WAVEScript
 888.atr                 1992-08-09 18:22  4.8K  reference annotations
 888.dat                 1992-08-09 18:22  675K  digitized signal(s)
 888.hea                 2012-02-14 18:42   92   header file
 888.hea-                1992-08-09 18:22  124   header file
 888.xws                 1999-12-12 17:32   88   WAVEScript
 889.atr                 1992-08-09 18:22  3.4K  reference annotations
 889.dat                 1992-08-09 18:22  675K  digitized signal(s)
 889.hea                 2012-02-14 18:42   92   header file
 889.hea-                1992-08-09 18:22  124   header file
 889.xws                 1999-12-12 17:32   88   WAVEScript
 890.atr                 1992-08-09 19:10  4.2K  reference annotations
 890.dat                 1992-08-09 18:22  675K  digitized signal(s)
 890.hea                 2012-02-14 18:42   99   header file
 890.hea-                1992-08-09 18:22  131   header file
 890.xws                 1999-12-12 17:32   88   WAVEScript
 891.atr                 1992-08-09 18:22  6.7K  reference annotations
 891.dat                 1992-08-09 18:22  675K  digitized signal(s)
 891.hea                 2012-02-14 18:41   91   header file
 891.hea-                1992-08-09 18:22  123   header file
 891.xws                 1999-12-12 17:32   88   WAVEScript
 892.atr                 1992-08-09 18:23  5.6K  reference annotations
 892.dat                 1992-08-09 18:23  675K  digitized signal(s)
 892.hea                 2012-02-14 18:41   95   header file
 892.hea-                1992-08-09 18:23  127   header file
 892.xws                 1999-12-12 17:32   88   WAVEScript
 893.atr                 1992-08-09 19:37  4.9K  reference annotations
 893.dat                 1992-08-09 18:23  675K  digitized signal(s)
 893.hea                 2012-02-14 18:41   92   header file
 893.hea-                1992-08-09 18:23  124   header file
 893.xws                 1999-12-12 17:32   88   WAVEScript
 894.atr                 2010-06-22 14:33  5.0K  reference annotations
 894.atr-                1992-08-09 18:23  5.0K  reference annotations
 894.dat                 1992-08-09 18:23  675K  digitized signal(s)
 894.hea                 2012-02-14 18:41   93   header file
 894.hea-                1992-08-09 18:23  125   header file
 894.xws                 1999-12-12 17:32   88   WAVEScript
 ANNOTATORS              2000-10-13 22:41   50   list of annotators
 DOI                     2015-09-21 13:00   19   
 MD5SUMS                 2010-06-24 14:10   17K  
 RECORDS                 2000-03-29 10:13  312   list of record names
 SHA1SUMS                2010-06-24 14:10   21K  
 SHA256SUMS              2010-06-24 14:10   30K  


---