This database is described in
Greenwald SD. Development and analysis of a ventricular fibrillation detector. M.S. thesis, MIT Dept. of Electrical Engineering and Computer Science, 1986.
Please cite this publication when referencing this material, and also include the standard citation for PhysioNet:
Goldberger AL, Amaral LAN, Glass L, Hausdorff JM, Ivanov PCh, Mark RG, Mietus JE, Moody GB, Peng C-K, Stanley HE. PhysioBank, PhysioToolkit, and PhysioNet: Components of a New Research Resource for Complex Physiologic Signals.
Circulation
101
(23):e215-e220 [Circulation Electronic Pages;
http://circ.ahajournals.org/content/101/23/e215.full
]; 2000 (June 13).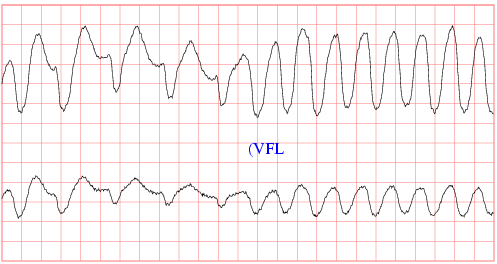 This database includes 22 half-hour ECG recordings of subjects who experienced episodes of sustained ventricular tachycardia, ventricular flutter, and ventricular fibrillation. The reference annotation (.atr) files contain only rhythm labels (no beat labels); see this note for a key.
Further reading
Greenwald SD, Albrecht P, Moody GB, Mark RG. Estimating confidence limits for arrhythmia detector performance. Computers in Cardiology 1985; 12:383–386.
 Name                    Last modified      Size  Description

---

 Parent Directory                             -   
 418.atr                 1992-08-09 16:48  1.4K  reference annotations
 418.dat                 1992-08-09 18:03  1.5M  digitized signal(s)
 418.hea                 2008-04-05 18:05   94   header file
 418.hea-                1992-08-09 18:03  128   header file
 418.xws                 1999-12-12 17:33   88   WAVEScript
 419.atr                 1992-08-09 18:03  806   reference annotations
 419.dat                 1992-08-09 18:03  1.5M  digitized signal(s)
 419.hea                 2008-04-05 18:05   92   header file
 419.hea-                1992-08-09 18:03  126   header file
 419.xws                 1999-12-12 17:33   88   WAVEScript
 420.atr                 1992-08-09 18:03  132   reference annotations
 420.dat                 1992-08-09 18:03  1.5M  digitized signal(s)
 420.hea                 2008-04-05 18:05   94   header file
 420.hea-                1992-08-09 18:03  128   header file
 420.xws                 1999-12-12 17:33   88   WAVEScript
 421.atr                 1992-08-09 18:03  1.4K  reference annotations
 421.dat                 1992-08-09 18:03  1.5M  digitized signal(s)
 421.hea                 2008-04-05 18:05   93   header file
 421.hea-                1992-08-09 18:03  127   header file
 421.xws                 1999-12-12 17:33   88   WAVEScript
 422.atr                 1992-08-09 18:03  442   reference annotations
 422.dat                 1992-08-09 18:03  1.5M  digitized signal(s)
 422.hea                 2008-04-05 18:05   91   header file
 422.hea-                1992-08-09 18:03  125   header file
 422.xws                 1999-12-12 17:33   88   WAVEScript
 423.atr                 1992-08-09 18:03  184   reference annotations
 423.dat                 1992-08-09 18:03  1.5M  digitized signal(s)
 423.hea                 2008-04-05 18:05   94   header file
 423.hea-                1992-08-09 18:03  128   header file
 423.xws                 1999-12-12 17:33   88   WAVEScript
 424.atr                 1992-08-09 18:03  214   reference annotations
 424.dat                 1992-08-09 18:03  1.5M  digitized signal(s)
 424.hea                 2008-04-05 18:05   92   header file
 424.hea-                1992-08-09 18:03  126   header file
 424.xws                 1999-12-12 17:33   88   WAVEScript
 425.atr                 1992-08-09 18:03  302   reference annotations
 425.dat                 1992-08-09 18:03  1.5M  digitized signal(s)
 425.hea                 2008-04-05 18:05   91   header file
 425.hea-                1992-08-09 18:03  125   header file
 425.xws                 1999-12-12 17:33   88   WAVEScript
 426.atr                 1992-08-09 18:03  256   reference annotations
 426.dat                 1992-08-09 18:03  1.5M  digitized signal(s)
 426.hea                 2008-04-05 18:05   94   header file
 426.hea-                1992-08-09 18:03  128   header file
 426.xws                 1999-12-12 17:33   88   WAVEScript
 427.atr                 1992-08-09 18:03   40   reference annotations
 427.dat                 1992-08-09 18:03  1.5M  digitized signal(s)
 427.hea                 2008-04-05 18:05   94   header file
 427.hea-                1992-08-09 18:03  128   header file
 427.xws                 1999-12-12 17:33   88   WAVEScript
 428.atr                 1992-08-09 18:03  114   reference annotations
 428.dat                 1992-08-09 18:03  1.5M  digitized signal(s)
 428.hea                 2008-04-05 18:05   94   header file
 428.hea-                1992-08-09 18:03  128   header file
 428.xws                 1999-12-12 17:33   88   WAVEScript
 429.atr                 1992-08-09 18:03  322   reference annotations
 429.dat                 1992-08-09 18:03  1.5M  digitized signal(s)
 429.hea                 2008-04-05 18:05   95   header file
 429.hea-                1992-08-09 18:03  129   header file
 429.xws                 1999-12-12 17:33   88   WAVEScript
 430.atr                 1992-08-09 18:03  492   reference annotations
 430.dat                 1992-08-09 18:03  1.5M  digitized signal(s)
 430.hea                 2008-04-05 18:05   94   header file
 430.hea-                1992-08-09 18:03  128   header file
 430.xws                 1999-12-12 17:33   88   WAVEScript
 602.atr                 1992-08-09 18:03  152   reference annotations
 602.dat                 1992-08-09 18:03  1.5M  digitized signal(s)
 602.hea                 2008-04-05 18:05   91   header file
 602.hea-                1992-08-09 18:03  125   header file
 602.xws                 1999-12-12 17:33   88   WAVEScript
 605.atr                 1992-08-09 18:03   46   reference annotations
 605.dat                 1992-08-09 18:03  1.5M  digitized signal(s)
 605.hea                 2008-04-05 18:05   91   header file
 605.hea-                1992-08-09 18:03  125   header file
 605.xws                 1999-12-12 17:33   88   WAVEScript
 607.atr                 1992-08-09 18:03  142   reference annotations
 607.dat                 1992-08-09 18:03  1.5M  digitized signal(s)
 607.hea                 2008-04-05 18:05   93   header file
 607.hea-                1992-08-09 18:03  127   header file
 607.xws                 1999-12-12 17:33   88   WAVEScript
 609.atr                 1992-08-09 18:03  178   reference annotations
 609.dat                 1992-08-09 18:03  1.5M  digitized signal(s)
 609.hea                 2008-04-05 18:05   92   header file
 609.hea-                1992-08-09 18:03  126   header file
 609.xws                 1999-12-12 17:33   88   WAVEScript
 610.atr                 1992-08-09 18:03  396   reference annotations
 610.dat                 1992-08-09 18:03  1.5M  digitized signal(s)
 610.hea                 2008-04-05 18:05   95   header file
 610.hea-                1992-08-09 18:03  129   header file
 610.xws                 1999-12-12 17:33   88   WAVEScript
 611.atr                 1992-08-09 18:03   26   reference annotations
 611.dat                 1992-08-09 18:03  1.5M  digitized signal(s)
 611.hea                 2008-04-05 18:05   93   header file
 611.hea-                1992-08-09 18:03  127   header file
 611.qrs                 2002-07-15 11:23  8.0K  unaudited annotations
 611.xws                 1999-12-12 17:33   88   WAVEScript
 612.atr                 1992-08-09 18:03   24   reference annotations
 612.dat                 1992-08-09 18:03  1.5M  digitized signal(s)
 612.hea                 2008-04-05 18:05   92   header file
 612.hea-                1992-08-09 18:03  126   header file
 612.xws                 1999-12-12 17:33   88   WAVEScript
 614.atr                 1992-08-09 18:03  276   reference annotations
 614.dat                 1992-08-09 18:03  1.5M  digitized signal(s)
 614.hea                 2008-04-05 18:05   93   header file
 614.hea-                1992-08-09 18:03  127   header file
 614.xws                 1999-12-12 17:33   88   WAVEScript
 615.atr                 1992-08-09 18:03  150   reference annotations
 615.dat                 1992-08-09 18:03  1.5M  digitized signal(s)
 615.hea                 2008-04-05 18:05   94   header file
 615.hea-                1992-08-09 18:03  128   header file
 615.xws                 1999-12-12 17:33   88   WAVEScript
 ANNOTATORS              2000-10-13 22:39   33   list of annotators
 DOI                     2015-09-21 13:00   19   
 MD5SUMS                 2005-07-13 02:27  3.8K  
 RECORDS                 2000-03-29 10:13   88   list of record names
 SHA1SUMS                2005-07-13 02:28  4.5K  
 SHA256SUMS              2007-09-18 12:40  6.9K  
 annotations.shtml       2012-01-05 21:02  2.2K  


---