When referencing this material, please cite:
P. Melillo, R. Izzo, A. Orrico, P. Scala, M. Attanasio, M. Mirra, N. De Luca, L. Pecchia "Automatic prediction of cardiovascular and cerebrovascular events using Heart Rate Variability analysis",
Plos One,
March 20, 2015.
http://journals.plos.org/plosone/article?id=10.1371/journal.pone.0118504
.
Please also include the standard citation for PhysioNet:
Goldberger AL, Amaral LAN, Glass L, Hausdorff JM, Ivanov PCh, Mark RG, Mietus JE, Moody GB, Peng C-K, Stanley HE. PhysioBank, PhysioToolkit, and PhysioNet: Components of a New Research Resource for Complex Physiologic Signals.
Circulation
101
(23):e215-e220 [Circulation Electronic Pages;
http://circ.ahajournals.org/cgi/content/full/101/23/e215
]; 2000 (June 13).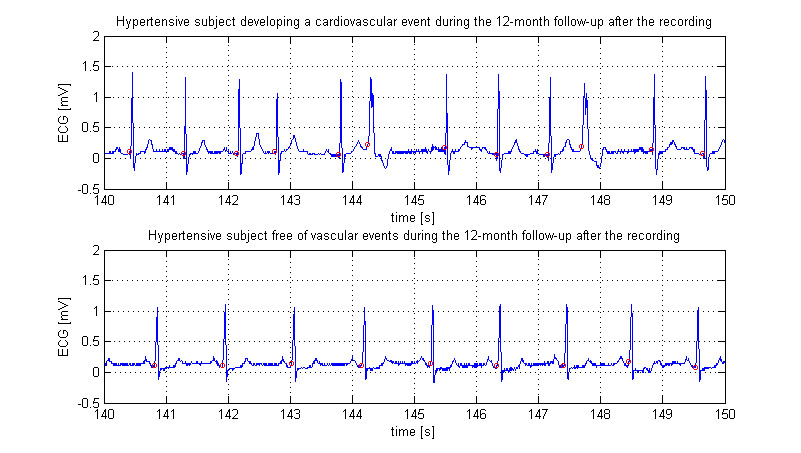 This database was created by: P. Melillo1-2, R. Izzo3, A. Orrico1-2, P. Scala2, M. Attanasio2, M. Mirra3, N. De Luca3, and L. Pecchia4.
Multidisciplinary Department of Medical, Surgical and Dental Science, Second University of Naples, Naples, Italy
SHARE Project, Italian Ministry of Education, Scientific Research and University, Rome, Italy
Departmental of Translational Medicine, University of Naples Federico II, Naples, Italy
School of Engineering, University of Warwick, Coventry, UK.

The SHAREE database was developed in order to investigate the possibility to identify hypertensive subjects at higher risk to develop vascular events based on Heart Rate Variability analysis. The research material in the SHAREE database included nominal 24-h electrocardiographic (ECG) Holter recordings of 139 hypertensive patients recruited at the Centre of Hypertension of the University Hospital of Naples Federico II, Naples, Italy.

The ECG Holter was performed after a one-month anti-hypertensive therapy wash-out. The patients, aged 55 and over (including 49 female and 90 male, age 72 - 7 years), were followed up for 12 months after the recordings in order to record major cardiovascular and cerebrovascular events, i.e. fatal or non-fatal acute coronary syndrome including myocardial infarctions, syncopal events, coronary revascularization, fatal or non-fatal stroke and transient ischemic attack. All the events were adjudicated by the Committee for Event Adjudication in the Hypertension Center. Adjudication was based on patient history, contact with the reference general practitioner and clinical records documenting the occurrence of the event/arrhythmia. Among the study sample, in the 12-month follow-up after recordings, 17 patients experienced a recorded event (11 myocardial infarctions, 3 strokes, 3 syncopal events). Moreover, the patients were evaluated by a cardiac and carotid ultrasonography. Left ventricular mass was determined by using the formula developed by Devereux as recommend by American Society of Echocardiography (ASE) and divided by the body surface area to calculate left ventricular mass index (LVMi, g/m2). B-mode ultrasonography of carotid arteries was performed in order to compute the maximum intima media thickness (mm).

The individual recordings are each about 24 hours in duration, and contain three ECG signals each sampled at 128 samples per second with 8-bit precision. Annotation files (with the suffix .qrs) were prepared using an automated detector (WQRS) based on the length transform (Zong, W., G. B. Moody and D. Jiang. A robust open-source algorithm to detect onset and duration of QRS complexes. Computers in Cardiology, 2003: 737-740) and have not been corrected manually. Each recording is supplied with demographic and clinical information (e.g. age, gender, eventual vascular event, values of systolic and diastolic arteriosus pressure) availabe in the info.txt file.

Acknowledgement

The work was supported by the 2007–2013 NOP for Research and Competitiveness for the Convergence Regions (Calabria, Campania, Puglia and Sicilia) with code PON04a3_00139 - Project Smart Health and Artificial intelligence for Risk Estimation.

Database files

 Name                    Last modified      Size  Description

---

 Parent Directory                             -   
 01911.dat               2015-01-26 13:19   30M  digitized signal(s)
 01911.hea               2015-02-09 10:35  151   header file
 01911.qrs               2015-01-26 13:19  205K  unaudited annotations
 02012.dat               2015-01-26 13:19   31M  digitized signal(s)
 02012.hea               2015-02-09 10:35  153   header file
 02012.qrs               2015-01-26 13:19  338K  unaudited annotations
 02019.dat               2015-01-26 13:19   21M  digitized signal(s)
 02019.hea               2015-02-09 10:35  152   header file
 02019.qrs               2015-01-26 13:19  132K  unaudited annotations
 02020.dat               2015-01-26 13:19   28M  digitized signal(s)
 02020.hea               2015-02-09 10:35  153   header file
 02020.qrs               2015-01-26 13:19  138K  unaudited annotations
 02025.dat               2015-01-26 13:19   32M  digitized signal(s)
 02025.hea               2015-02-09 10:35  152   header file
 02025.qrs               2015-01-26 13:19  117K  unaudited annotations
 02031.dat               2015-01-26 13:19   30M  digitized signal(s)
 02031.hea               2015-02-09 10:35  154   header file
 02031.qrs               2015-01-26 13:19  196K  unaudited annotations
 02032.dat               2015-01-26 13:19   31M  digitized signal(s)
 02032.hea               2015-02-09 10:35  153   header file
 02032.qrs               2015-01-26 13:19  281K  unaudited annotations
 02033.dat               2015-01-26 13:19   29M  digitized signal(s)
 02033.hea               2015-02-09 10:35  154   header file
 02033.qrs               2015-01-26 13:19  203K  unaudited annotations
 02035.dat               2015-01-26 13:19   32M  digitized signal(s)
 02035.hea               2015-02-09 10:35  153   header file
 02035.qrs               2015-01-26 13:19  180K  unaudited annotations
 02037.dat               2015-01-26 13:19   31M  digitized signal(s)
 02037.hea               2015-02-09 10:35  153   header file
 02037.qrs               2015-01-26 13:19  370K  unaudited annotations
 02041.dat               2015-01-26 13:19   31M  digitized signal(s)
 02041.hea               2015-02-09 10:35  156   header file
 02041.qrs               2015-01-26 13:19  172K  unaudited annotations
 02047.dat               2015-01-26 13:19   32M  digitized signal(s)
 02047.hea               2015-02-09 10:35  154   header file
 02047.qrs               2015-01-26 13:19  347K  unaudited annotations
 02050.dat               2015-01-26 13:19   32M  digitized signal(s)
 02050.hea               2015-02-09 10:35  155   header file
 02050.qrs               2015-01-26 13:19  160K  unaudited annotations
 02055.dat               2015-01-26 13:19   30M  digitized signal(s)
 02055.hea               2015-02-09 10:35  152   header file
 02055.qrs               2015-01-26 13:19  184K  unaudited annotations
 02057.dat               2015-01-26 13:19   31M  digitized signal(s)
 02057.hea               2015-02-09 10:35  152   header file
 02057.qrs               2015-01-26 13:19  422K  unaudited annotations
 02059.dat               2015-01-26 13:19   32M  digitized signal(s)
 02059.hea               2015-02-09 10:35  153   header file
 02059.qrs               2015-01-26 13:19  178K  unaudited annotations
 02062.dat               2015-01-26 13:19   31M  digitized signal(s)
 02062.hea               2015-02-09 10:35  152   header file
 02062.qrs               2015-01-26 13:19  290K  unaudited annotations
 02063.dat               2015-01-26 13:19   30M  digitized signal(s)
 02063.hea               2015-02-09 10:35  151   header file
 02063.qrs               2015-01-26 13:19  223K  unaudited annotations
 02065.dat               2015-01-26 13:19   27M  digitized signal(s)
 02065.hea               2015-02-09 10:35  153   header file
 02065.qrs               2015-01-26 13:19  338K  unaudited annotations
 02066.dat               2015-01-26 13:19   31M  digitized signal(s)
 02066.hea               2015-02-09 10:35  155   header file
 02066.qrs               2015-01-26 13:19  189K  unaudited annotations
 02068.dat               2015-01-26 13:19   30M  digitized signal(s)
 02068.hea               2015-02-09 10:35  150   header file
 02068.qrs               2015-01-26 13:19  187K  unaudited annotations
 02069.dat               2015-01-26 13:20   31M  digitized signal(s)
 02069.hea               2015-02-09 10:35  150   header file
 02069.qrs               2015-01-26 13:20  519K  unaudited annotations
 02072.dat               2015-01-26 13:20   31M  digitized signal(s)
 02072.hea               2015-02-09 10:35  156   header file
 02072.qrs               2015-01-26 13:20  203K  unaudited annotations
 02073.dat               2015-01-26 13:20   31M  digitized signal(s)
 02073.hea               2015-02-09 10:35  155   header file
 02073.qrs               2015-01-26 13:20  400K  unaudited annotations
 02076.dat               2015-01-26 13:20   32M  digitized signal(s)
 02076.hea               2015-02-09 10:35  154   header file
 02076.qrs               2015-01-26 13:20  452K  unaudited annotations
 02078.dat               2015-01-26 13:20   32M  digitized signal(s)
 02078.hea               2015-02-09 10:35  154   header file
 02078.qrs               2015-01-26 13:20  206K  unaudited annotations
 02079.dat               2015-01-26 13:20   30M  digitized signal(s)
 02079.hea               2015-02-09 10:35  152   header file
 02079.qrs               2015-01-26 13:20  339K  unaudited annotations
 02082.dat               2015-01-26 13:20   28M  digitized signal(s)
 02082.hea               2015-02-09 10:35  155   header file
 02082.qrs               2015-01-26 13:20  171K  unaudited annotations
 02084.dat               2015-01-26 13:20   29M  digitized signal(s)
 02084.hea               2015-02-09 10:35  152   header file
 02084.qrs               2015-01-26 13:20  230K  unaudited annotations
 02087.dat               2015-01-26 13:20   31M  digitized signal(s)
 02087.hea               2015-02-09 10:35  152   header file
 02087.qrs               2015-01-26 13:20  381K  unaudited annotations
 02089.dat               2015-01-26 13:20   31M  digitized signal(s)
 02089.hea               2015-02-09 10:35  153   header file
 02089.qrs               2015-01-26 13:20  279K  unaudited annotations
 02092.dat               2015-01-26 13:20   30M  digitized signal(s)
 02092.hea               2015-02-09 10:35  153   header file
 02092.qrs               2015-01-26 13:20  400K  unaudited annotations
 02097.dat               2015-01-26 13:20   31M  digitized signal(s)
 02097.hea               2015-02-09 10:35  153   header file
 02097.qrs               2015-01-26 13:20  201K  unaudited annotations
 02100.dat               2015-01-26 13:20   30M  digitized signal(s)
 02100.hea               2015-02-09 10:35  154   header file
 02100.qrs               2015-01-26 13:20  363K  unaudited annotations
 02102.dat               2015-01-26 13:20   31M  digitized signal(s)
 02102.hea               2015-02-09 10:35  156   header file
 02102.qrs               2015-01-26 13:20  242K  unaudited annotations
 02107.dat               2015-01-26 13:20   31M  digitized signal(s)
 02107.hea               2015-02-09 10:35  155   header file
 02107.qrs               2015-01-26 13:20  207K  unaudited annotations
 02108.dat               2015-01-26 13:20   27M  digitized signal(s)
 02108.hea               2015-02-09 10:35  154   header file
 02108.qrs               2015-01-26 13:20  346K  unaudited annotations
 02114.dat               2015-01-26 13:20   30M  digitized signal(s)
 02114.hea               2015-02-09 10:35  156   header file
 02114.qrs               2015-01-26 13:20  189K  unaudited annotations
 02115.dat               2015-01-26 13:20   29M  digitized signal(s)
 02115.hea               2015-02-09 10:35  154   header file
 02115.qrs               2015-01-26 13:20  201K  unaudited annotations
 02116.dat               2015-01-26 13:20   32M  digitized signal(s)
 02116.hea               2015-02-09 10:35  155   header file
 02116.qrs               2015-01-26 13:20  216K  unaudited annotations
 02117.dat               2015-01-26 13:20   32M  digitized signal(s)
 02117.hea               2015-02-09 10:35  155   header file
 02117.qrs               2015-01-26 13:20  263K  unaudited annotations
 02119.dat               2015-01-26 13:20   30M  digitized signal(s)
 02119.hea               2015-02-09 10:35  155   header file
 02119.qrs               2015-01-26 13:20  390K  unaudited annotations
 02120.dat               2015-01-26 13:20   32M  digitized signal(s)
 02120.hea               2015-02-09 10:35  155   header file
 02120.qrs               2015-01-26 13:20  446K  unaudited annotations
 02121.dat               2015-01-26 13:20   30M  digitized signal(s)
 02121.hea               2015-02-09 10:35  153   header file
 02121.qrs               2015-01-26 13:20  150K  unaudited annotations
 02125.dat               2015-01-26 13:20   31M  digitized signal(s)
 02125.hea               2015-02-09 10:35  153   header file
 02125.qrs               2015-01-26 13:20  265K  unaudited annotations
 02134.dat               2015-01-26 13:20   28M  digitized signal(s)
 02134.hea               2015-02-09 10:35  152   header file
 02134.qrs               2015-01-26 13:20  253K  unaudited annotations
 02136.dat               2015-01-26 13:20   32M  digitized signal(s)
 02136.hea               2015-02-09 10:35  154   header file
 02136.qrs               2015-01-26 13:20  195K  unaudited annotations
 02139.dat               2015-01-26 13:20   30M  digitized signal(s)
 02139.hea               2015-02-09 10:35  155   header file
 02139.qrs               2015-01-26 13:20  252K  unaudited annotations
 02140.dat               2015-01-26 13:20   31M  digitized signal(s)
 02140.hea               2015-02-09 10:35  154   header file
 02140.qrs               2015-01-26 13:20  211K  unaudited annotations
 02142.dat               2015-01-26 13:20   30M  digitized signal(s)
 02142.hea               2015-02-09 10:35  153   header file
 02142.qrs               2015-01-26 13:20  165K  unaudited annotations
 02148.dat               2015-01-26 13:20   31M  digitized signal(s)
 02148.hea               2015-02-09 10:35  155   header file
 02148.qrs               2015-01-26 13:20  210K  unaudited annotations
 02150.dat               2015-01-26 13:20   31M  digitized signal(s)
 02150.hea               2015-02-09 10:35  150   header file
 02150.qrs               2015-01-26 13:20  292K  unaudited annotations
 02152.dat               2015-01-26 13:20   32M  digitized signal(s)
 02152.hea               2015-02-09 10:35  152   header file
 02152.qrs               2015-01-26 13:20  178K  unaudited annotations
 02154.dat               2015-01-26 13:20   31M  digitized signal(s)
 02154.hea               2015-02-09 10:35  154   header file
 02154.qrs               2015-01-26 13:20  350K  unaudited annotations
 02156.dat               2015-01-26 13:20   30M  digitized signal(s)
 02156.hea               2015-02-09 10:35  155   header file
 02156.qrs               2015-01-26 13:20  170K  unaudited annotations
 02159.dat               2015-01-26 13:20   30M  digitized signal(s)
 02159.hea               2015-02-09 10:35  154   header file
 02159.qrs               2015-01-26 13:20  300K  unaudited annotations
 02161.dat               2015-01-26 13:20   30M  digitized signal(s)
 02161.hea               2015-02-09 10:35  153   header file
 02161.qrs               2015-01-26 13:20  259K  unaudited annotations
 02167.dat               2015-01-26 13:20   28M  digitized signal(s)
 02167.hea               2015-02-09 10:35  153   header file
 02167.qrs               2015-01-26 13:20  177K  unaudited annotations
 02168.dat               2015-01-26 13:20   29M  digitized signal(s)
 02168.hea               2015-02-09 10:35  156   header file
 02168.qrs               2015-01-26 13:20  427K  unaudited annotations
 02170.dat               2015-01-26 13:20   30M  digitized signal(s)
 02170.hea               2015-02-09 10:35  154   header file
 02170.qrs               2015-01-26 13:20  299K  unaudited annotations
 02171.dat               2015-01-26 13:20   31M  digitized signal(s)
 02171.hea               2015-02-09 10:35  153   header file
 02171.qrs               2015-01-26 13:20  242K  unaudited annotations
 02175.dat               2015-01-26 13:20   31M  digitized signal(s)
 02175.hea               2015-02-09 10:35  154   header file
 02175.qrs               2015-01-26 13:20  285K  unaudited annotations
 02180.dat               2015-01-26 13:20   31M  digitized signal(s)
 02180.hea               2015-02-09 10:35  155   header file
 02180.qrs               2015-01-26 13:20  166K  unaudited annotations
 02184.dat               2015-01-26 13:20   32M  digitized signal(s)
 02184.hea               2015-02-09 10:35  152   header file
 02184.qrs               2015-01-26 13:20  289K  unaudited annotations
 02185.dat               2015-01-26 13:20   32M  digitized signal(s)
 02185.hea               2015-02-09 10:35  151   header file
 02185.qrs               2015-01-26 13:20  214K  unaudited annotations
 02186.dat               2015-01-26 13:20   32M  digitized signal(s)
 02186.hea               2015-02-09 10:35  153   header file
 02186.qrs               2015-01-26 13:20  300K  unaudited annotations
 02188.dat               2015-01-26 13:20   28M  digitized signal(s)
 02188.hea               2015-02-09 10:35  153   header file
 02188.qrs               2015-01-26 13:20  309K  unaudited annotations
 02191.dat               2015-01-26 13:20   31M  digitized signal(s)
 02191.hea               2015-02-09 10:35  153   header file
 02191.qrs               2015-01-26 13:20  372K  unaudited annotations
 02194.dat               2015-01-26 13:20   32M  digitized signal(s)
 02194.hea               2015-02-09 10:35  154   header file
 02194.qrs               2015-01-26 13:20  200K  unaudited annotations
 02202.dat               2015-01-26 13:20   32M  digitized signal(s)
 02202.hea               2015-02-09 10:35  154   header file
 02202.qrs               2015-01-26 13:20  308K  unaudited annotations
 02210.dat               2015-01-26 13:20   31M  digitized signal(s)
 02210.hea               2015-02-09 10:35  154   header file
 02210.qrs               2015-01-26 13:20  442K  unaudited annotations
 02213.dat               2015-01-26 13:20   32M  digitized signal(s)
 02213.hea               2015-02-09 10:35  153   header file
 02213.qrs               2015-01-26 13:20  429K  unaudited annotations
 02215.dat               2015-01-26 13:20   31M  digitized signal(s)
 02215.hea               2015-02-09 10:35  151   header file
 02215.qrs               2015-01-26 13:20  298K  unaudited annotations
 02218.dat               2015-01-26 13:20   31M  digitized signal(s)
 02218.hea               2015-02-09 10:35  154   header file
 02218.qrs               2015-01-26 13:20  233K  unaudited annotations
 02219.dat               2015-01-26 13:20   30M  digitized signal(s)
 02219.hea               2015-02-09 10:35  153   header file
 02219.qrs               2015-01-26 13:20  436K  unaudited annotations
 02220.dat               2015-01-26 13:21   30M  digitized signal(s)
 02220.hea               2015-02-09 10:35  155   header file
 02220.qrs               2015-01-26 13:21  174K  unaudited annotations
 02226.dat               2015-01-26 13:21   31M  digitized signal(s)
 02226.hea               2015-02-09 10:35  153   header file
 02226.qrs               2015-01-26 13:21  531K  unaudited annotations
 02227.dat               2015-01-26 13:21   28M  digitized signal(s)
 02227.hea               2015-02-09 10:35  154   header file
 02227.qrs               2015-01-26 13:21  151K  unaudited annotations
 02229.dat               2015-01-26 13:21   29M  digitized signal(s)
 02229.hea               2015-02-09 10:35  155   header file
 02229.qrs               2015-01-26 13:21  251K  unaudited annotations
 02230.dat               2015-01-26 13:21   29M  digitized signal(s)
 02230.hea               2015-02-09 10:35  154   header file
 02230.qrs               2015-01-26 13:21  167K  unaudited annotations
 02231.dat               2015-01-26 13:21   31M  digitized signal(s)
 02231.hea               2015-02-09 10:35  152   header file
 02231.qrs               2015-01-26 13:21  238K  unaudited annotations
 02244.dat               2015-01-26 13:21   32M  digitized signal(s)
 02244.hea               2015-02-09 10:35  154   header file
 02244.qrs               2015-01-26 13:21  447K  unaudited annotations
 02245.dat               2015-01-26 13:21   30M  digitized signal(s)
 02245.hea               2015-02-09 10:35  155   header file
 02245.qrs               2015-01-26 13:21  221K  unaudited annotations
 02248.dat               2015-01-26 13:21   27M  digitized signal(s)
 02248.hea               2015-02-09 10:35  153   header file
 02248.qrs               2015-01-26 13:21  178K  unaudited annotations
 02249.dat               2015-01-26 13:21   30M  digitized signal(s)
 02249.hea               2015-02-09 10:35  155   header file
 02249.qrs               2015-01-26 13:21  400K  unaudited annotations
 02250.dat               2015-01-26 13:21   31M  digitized signal(s)
 02250.hea               2015-02-09 10:35  153   header file
 02250.qrs               2015-01-26 13:21  261K  unaudited annotations
 02251.dat               2015-01-26 13:21   29M  digitized signal(s)
 02251.hea               2015-02-09 10:35  153   header file
 02251.qrs               2015-01-26 13:21  163K  unaudited annotations
 02258.dat               2015-01-26 13:21   31M  digitized signal(s)
 02258.hea               2015-02-09 10:35  154   header file
 02258.qrs               2015-01-26 13:21  212K  unaudited annotations
 02259.dat               2015-01-26 13:21   29M  digitized signal(s)
 02259.hea               2015-02-09 10:35  155   header file
 02259.qrs               2015-01-26 13:21  436K  unaudited annotations
 02269.dat               2015-01-26 13:21   31M  digitized signal(s)
 02269.hea               2015-02-09 10:35  155   header file
 02269.qrs               2015-01-26 13:21  411K  unaudited annotations
 02274.dat               2015-01-26 13:21   30M  digitized signal(s)
 02274.hea               2015-02-09 10:35  153   header file
 02274.qrs               2015-01-26 13:21  318K  unaudited annotations
 02275.dat               2015-01-26 13:21   29M  digitized signal(s)
 02275.hea               2015-02-09 10:35  155   header file
 02275.qrs               2015-01-26 13:21  266K  unaudited annotations
 02276.dat               2015-01-26 13:21   28M  digitized signal(s)
 02276.hea               2015-02-09 10:35  152   header file
 02276.qrs               2015-01-26 13:21  144K  unaudited annotations
 02278.dat               2015-01-26 13:21   29M  digitized signal(s)
 02278.hea               2015-02-09 10:35  155   header file
 02278.qrs               2015-01-26 13:21  177K  unaudited annotations
 02282.dat               2015-01-26 13:21   31M  digitized signal(s)
 02282.hea               2015-02-09 10:35  154   header file
 02282.qrs               2015-01-26 13:21  200K  unaudited annotations
 02284.dat               2015-01-26 13:21   31M  digitized signal(s)
 02284.hea               2015-02-09 10:35  155   header file
 02284.qrs               2015-01-26 13:21  389K  unaudited annotations
 02285.dat               2015-01-26 13:21   32M  digitized signal(s)
 02285.hea               2015-02-09 10:35  156   header file
 02285.qrs               2015-01-26 13:21  338K  unaudited annotations
 02289.dat               2015-01-26 13:21   26M  digitized signal(s)
 02289.hea               2015-02-09 10:35  153   header file
 02289.qrs               2015-01-26 13:21  156K  unaudited annotations
 02291.dat               2015-01-26 13:21   32M  digitized signal(s)
 02291.hea               2015-02-09 10:35  153   header file
 02291.qrs               2015-01-26 13:21  241K  unaudited annotations
 02293.dat               2015-01-26 13:21   30M  digitized signal(s)
 02293.hea               2015-02-09 10:35  155   header file
 02293.qrs               2015-01-26 13:21  525K  unaudited annotations
 02294.dat               2015-01-26 13:21   30M  digitized signal(s)
 02294.hea               2015-02-09 10:35  154   header file
 02294.qrs               2015-01-26 13:21  327K  unaudited annotations
 02295.dat               2015-01-26 13:21   30M  digitized signal(s)
 02295.hea               2015-02-09 10:35  152   header file
 02295.qrs               2015-01-26 13:21  116K  unaudited annotations
 02296.dat               2015-01-26 13:21   31M  digitized signal(s)
 02296.hea               2015-02-09 10:35  156   header file
 02296.qrs               2015-01-26 13:21  220K  unaudited annotations
 02298.dat               2015-01-26 13:21   28M  digitized signal(s)
 02298.hea               2015-02-09 10:35  151   header file
 02298.qrs               2015-01-26 13:21  430K  unaudited annotations
 02299.dat               2015-01-26 13:21   32M  digitized signal(s)
 02299.hea               2015-02-09 10:35  153   header file
 02299.qrs               2015-01-26 13:21  203K  unaudited annotations
 02304.dat               2015-01-26 13:21   31M  digitized signal(s)
 02304.hea               2015-02-09 10:35  152   header file
 02304.qrs               2015-01-26 13:21  141K  unaudited annotations
 02306.dat               2015-01-26 13:21   31M  digitized signal(s)
 02306.hea               2015-02-09 10:35  156   header file
 02306.qrs               2015-01-26 13:21  223K  unaudited annotations
 02307.dat               2015-01-26 13:21   30M  digitized signal(s)
 02307.hea               2015-02-09 10:35  153   header file
 02307.qrs               2015-01-26 13:21  322K  unaudited annotations
 02309.dat               2015-01-26 13:21   31M  digitized signal(s)
 02309.hea               2015-02-09 10:35  155   header file
 02309.qrs               2015-01-26 13:21  228K  unaudited annotations
 02312.dat               2015-01-26 13:21   32M  digitized signal(s)
 02312.hea               2015-02-09 10:35  155   header file
 02312.qrs               2015-01-26 13:21  340K  unaudited annotations
 02315.dat               2015-01-26 13:21   32M  digitized signal(s)
 02315.hea               2015-02-09 10:35  154   header file
 02315.qrs               2015-01-26 13:21  165K  unaudited annotations
 02319.dat               2015-01-26 13:21   31M  digitized signal(s)
 02319.hea               2015-02-09 10:35  155   header file
 02319.qrs               2015-01-26 13:21  207K  unaudited annotations
 02321.dat               2015-01-26 13:21   29M  digitized signal(s)
 02321.hea               2015-02-09 10:35  154   header file
 02321.qrs               2015-01-26 13:21  173K  unaudited annotations
 02323.dat               2015-01-26 13:21   31M  digitized signal(s)
 02323.hea               2015-02-09 10:35  154   header file
 02323.qrs               2015-01-26 13:21  199K  unaudited annotations
 02328.dat               2015-01-26 13:21   29M  digitized signal(s)
 02328.hea               2015-02-09 10:35  153   header file
 02328.qrs               2015-01-26 13:21  131K  unaudited annotations
 02332.dat               2015-01-26 13:21   30M  digitized signal(s)
 02332.hea               2015-02-09 10:35  155   header file
 02332.qrs               2015-01-26 13:21  176K  unaudited annotations
 02334.dat               2015-01-26 13:21   31M  digitized signal(s)
 02334.hea               2015-02-09 10:35  154   header file
 02334.qrs               2015-01-26 13:21  170K  unaudited annotations
 02337.dat               2015-01-26 13:21   30M  digitized signal(s)
 02337.hea               2015-02-09 10:35  156   header file
 02337.qrs               2015-01-26 13:21  328K  unaudited annotations
 02338.dat               2015-01-26 13:21   31M  digitized signal(s)
 02338.hea               2015-02-09 10:35  152   header file
 02338.qrs               2015-01-26 13:21  248K  unaudited annotations
 02339.dat               2015-01-26 13:21   30M  digitized signal(s)
 02339.hea               2015-02-09 10:35  154   header file
 02339.qrs               2015-01-26 13:21  216K  unaudited annotations
 02348.dat               2015-01-26 13:21   32M  digitized signal(s)
 02348.hea               2015-02-09 10:35  154   header file
 02348.qrs               2015-01-26 13:21  338K  unaudited annotations
 02349.dat               2015-01-26 13:21   31M  digitized signal(s)
 02349.hea               2015-02-09 10:35  156   header file
 02349.qrs               2015-01-26 13:21  195K  unaudited annotations
 02350.dat               2015-01-26 13:21   32M  digitized signal(s)
 02350.hea               2015-02-09 10:35  154   header file
 02350.qrs               2015-01-26 13:21  259K  unaudited annotations
 02352.dat               2015-01-26 13:21   29M  digitized signal(s)
 02352.hea               2015-02-09 10:35  155   header file
 02352.qrs               2015-01-26 13:21  221K  unaudited annotations
 02355.dat               2015-01-26 13:21   31M  digitized signal(s)
 02355.hea               2015-02-09 10:35  153   header file
 02355.qrs               2015-01-26 13:21  202K  unaudited annotations
 02357.dat               2015-01-26 13:21   32M  digitized signal(s)
 02357.hea               2015-02-09 10:35  156   header file
 02357.qrs               2015-01-26 13:21  200K  unaudited annotations
 02359.dat               2015-01-26 13:21   28M  digitized signal(s)
 02359.hea               2015-02-09 10:35  155   header file
 02359.qrs               2015-01-26 13:21  185K  unaudited annotations
 02370.dat               2015-01-26 13:21   30M  digitized signal(s)
 02370.hea               2015-02-09 10:35  155   header file
 02370.qrs               2015-01-26 13:21  223K  unaudited annotations
 02373.dat               2015-01-26 13:21   31M  digitized signal(s)
 02373.hea               2015-02-09 10:35  152   header file
 02373.qrs               2015-01-26 13:21  191K  unaudited annotations
 02384.dat               2015-01-26 13:21   29M  digitized signal(s)
 02384.hea               2015-02-09 10:35  156   header file
 02384.qrs               2015-01-26 13:21  266K  unaudited annotations
 02387.dat               2015-01-26 13:21   31M  digitized signal(s)
 02387.hea               2015-02-09 10:35  153   header file
 02387.qrs               2015-01-26 13:21  165K  unaudited annotations
 02392.dat               2015-01-26 13:21   30M  digitized signal(s)
 02392.hea               2015-02-09 10:35  155   header file
 02392.qrs               2015-01-26 13:21  424K  unaudited annotations
 02396.dat               2015-01-26 13:21   30M  digitized signal(s)
 02396.hea               2015-02-09 10:35  155   header file
 02396.qrs               2015-01-26 13:21  160K  unaudited annotations
 02399.dat               2015-01-26 13:21   29M  digitized signal(s)
 02399.hea               2015-02-09 10:35  151   header file
 02399.qrs               2015-01-26 13:21  292K  unaudited annotations
 02403.dat               2015-01-26 13:22   31M  digitized signal(s)
 02403.hea               2015-02-09 10:35  155   header file
 02403.qrs               2015-01-26 13:22  387K  unaudited annotations
 02412.dat               2015-01-26 13:22   30M  digitized signal(s)
 02412.hea               2015-02-09 10:35  154   header file
 02412.qrs               2015-01-26 13:22  201K  unaudited annotations
 02413.dat               2015-01-26 13:22   32M  digitized signal(s)
 02413.hea               2015-02-09 10:35  153   header file
 02413.qrs               2015-01-26 13:22  183K  unaudited annotations
 02417.dat               2015-01-26 13:22   32M  digitized signal(s)
 02417.hea               2015-02-09 10:35  155   header file
 02417.qrs               2015-01-26 13:22  361K  unaudited annotations
 02425.dat               2015-01-26 13:22   32M  digitized signal(s)
 02425.hea               2015-02-09 10:35  154   header file
 02425.qrs               2015-01-26 13:22  322K  unaudited annotations
 ANNOTATORS              2015-07-31 13:51   31   list of annotators
 DOI                     2015-09-21 13:00   19   
 Figure1.jpg             2015-01-28 13:53   97K  
 MD5SUMS                 2015-07-31 14:06   18K  
 RECORDS                 2015-01-26 13:22  834   list of record names
 SHA1SUMS                2015-07-31 14:06   21K  
 SHA256SUMS              2015-07-31 14:07   31K  
 info.txt                2015-01-26 13:22  8.0K  


---

Apache/2.4.25 (Debian) mod_auth_pgsql/2.0.3 mod_auth_tkt/2.1.0 OpenSSL/1.0.2u Server at archive.physionet.org Port 443