The data set and its collection methods are described in
A support PDF showing the lead placement is also provided.
When referencing this material, please include the citation above, and also include the standard citation for PhysioNet:
Goldberger AL, Amaral LAN, Glass L, Hausdorff JM, Ivanov PCh, Mark RG, Mietus JE, Moody GB, Peng C-K, Stanley HE. PhysioBank, PhysioToolkit, and PhysioNet: Components of a New Research Resource for Complex Physiologic Signals.
Circulation
101
(23):e215-e220 [Circulation Electronic Pages;
http://circ.ahajournals.org/content/101/23/e215.full
]; 2000 (June 13).
Short duration ECG signals are recorded from a healthy 25-year-old male performing different physical activities to study the effect of motion artifacts on ECG signals and their sparsity.
For each measurement, 4 pairs of electrodes built into a single patch are placed on the subject. The electrodes are arranged at 45-degree offsets as shown below: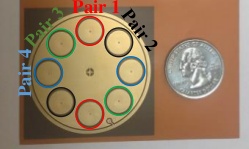 The patch itself is also placed at multiple orientations relative to the body: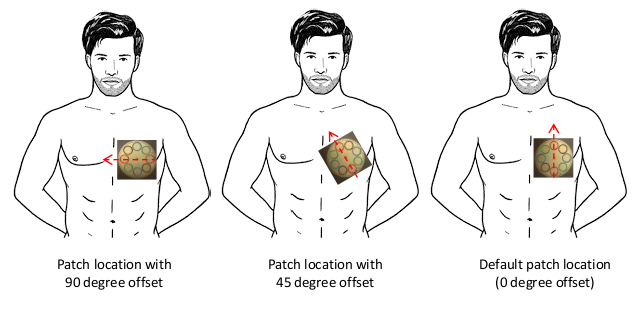 Each recording contains four signals (ECG 1 to ECG 4) corresponding to the four pairs of electrodes.
Recording information:
Sampling rate: 500 Hz
Resolution: 16 bits
An analogue gain of 100 is applied to the raw ECG recordings before ADC.
The 2-digit number before the last letter shows the offset of the whole electrode patch in degrees.
The last letter of each record name corresponds to the type of physical activity as below:

s = standing
w = walking
j = single jump
 Name                    Last modified      Size  Description

---

 Parent Directory                             -   
 DOI                     2016-02-18 10:48   20   
 MD5SUMS                 2015-12-18 15:10  2.9K  
 RECORDS                 2015-12-16 18:03  297   list of record names
 SHA1SUMS                2015-12-18 15:10  3.3K  
 SHA256SUMS              2015-12-18 15:10  4.7K  
 electrode_patch.pdf     2015-11-25 15:24  129K  
 patch_electrodes.jpg    2015-12-16 18:17   15K  
 patch_location.png      2015-12-16 18:17   36K  
 test01_00s.dat          2015-11-17 17:52   31K  digitized signal(s)
 test01_00s.hea          2015-12-16 18:01  277   header file
 test02_45s.dat          2015-11-17 17:52   31K  digitized signal(s)
 test02_45s.hea          2015-12-16 18:01  276   header file
 test03_90s.dat          2015-11-17 17:52   31K  digitized signal(s)
 test03_90s.hea          2015-12-16 18:01  274   header file
 test04_00s.dat          2015-11-17 17:52   31K  digitized signal(s)
 test04_00s.hea          2015-12-16 18:01  275   header file
 test05_45s.dat          2015-11-17 17:52   31K  digitized signal(s)
 test05_45s.hea          2015-12-16 18:01  271   header file
 test06_90s.dat          2015-11-17 17:52   31K  digitized signal(s)
 test06_90s.hea          2015-12-16 18:01  272   header file
 test07_00s.dat          2015-11-17 17:52   31K  digitized signal(s)
 test07_00s.hea          2015-12-16 18:01  271   header file
 test08_45s.dat          2015-11-17 17:52   31K  digitized signal(s)
 test08_45s.hea          2015-12-16 18:01  274   header file
 test09_90s.dat          2015-11-17 17:52   31K  digitized signal(s)
 test09_90s.hea          2015-12-16 18:01  273   header file
 test10_00w.dat          2015-11-17 17:52   31K  digitized signal(s)
 test10_00w.hea          2015-12-16 18:01  272   header file
 test11_45w.dat          2015-11-17 17:52   31K  digitized signal(s)
 test11_45w.hea          2015-12-16 18:01  275   header file
 test12_90w.dat          2015-11-17 17:52   31K  digitized signal(s)
 test12_90w.hea          2015-12-16 18:01  277   header file
 test13_00w.dat          2015-11-17 17:52   31K  digitized signal(s)
 test13_00w.hea          2015-12-16 18:01  275   header file
 test14_45w.dat          2015-11-17 17:52   31K  digitized signal(s)
 test14_45w.hea          2015-12-16 18:01  271   header file
 test15_90w.dat          2015-11-17 17:52   31K  digitized signal(s)
 test15_90w.hea          2015-12-16 18:01  272   header file
 test16_00w.dat          2015-11-17 17:52   31K  digitized signal(s)
 test16_00w.hea          2015-12-16 18:01  274   header file
 test17_45w.dat          2015-11-17 17:52   31K  digitized signal(s)
 test17_45w.hea          2015-12-16 18:01  274   header file
 test18_90w.dat          2015-11-17 17:52   31K  digitized signal(s)
 test18_90w.hea          2015-12-16 18:01  273   header file
 test19_00j.dat          2015-11-17 17:52   31K  digitized signal(s)
 test19_00j.hea          2015-12-16 18:01  277   header file
 test20_45j.dat          2015-11-17 17:52   31K  digitized signal(s)
 test20_45j.hea          2015-12-16 18:01  278   header file
 test21_90j.dat          2015-11-17 17:52   31K  digitized signal(s)
 test21_90j.hea          2015-12-16 18:01  277   header file
 test22_00j.dat          2015-11-17 17:52   31K  digitized signal(s)
 test22_00j.hea          2015-12-16 18:01  273   header file
 test23_45j.dat          2015-11-17 17:52   31K  digitized signal(s)
 test23_45j.hea          2015-12-16 18:01  275   header file
 test24_90j.dat          2015-11-17 17:52   31K  digitized signal(s)
 test24_90j.hea          2015-12-16 18:01  269   header file
 test25_00j.dat          2015-11-17 17:52   31K  digitized signal(s)
 test25_00j.hea          2015-12-16 18:01  276   header file
 test26_45j.dat          2015-11-17 17:52   31K  digitized signal(s)
 test26_45j.hea          2015-12-16 18:01  273   header file
 test27_90j.dat          2015-11-17 17:52   31K  digitized signal(s)
 test27_90j.hea          2015-12-16 18:01  274   header file


---